posted by mudhunny
Tweet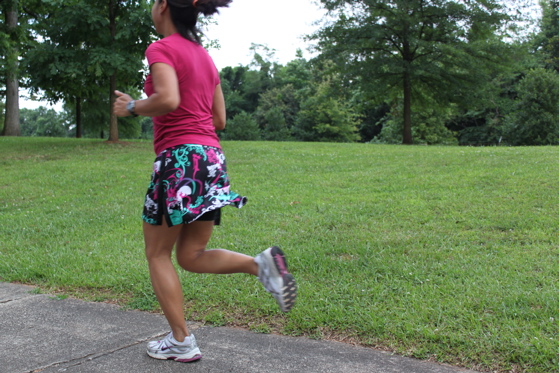 Let's face it, sometimes running the same old routes day after day can be pretty boring. Or if you're like me, many days it's hard to get motivated to run unless you're training for a big race.  It's days like these that I put on a running skirt and everything changes.

I love running in a skirt, especially my Gym Girl Ultra skirt by Skirt Sports, mostly because it's so comfortable! Form-fitting shorts, or "shorties," made of semi-compression mesh fabric, are attached beneath the lightweight jersey skirt. The mesh shorties help you stay cool and dry on long or short runs.  And unlike some running shorts that can creep up, the shorties in the Gym Girl Ultra stay put while the skirt is free flowing with side slits to allow a full range of movement. Plus, the shorties have small pockets on both legs that are perfect for carrying your ipod shuffle, keys, cash, or energy gel.
Not only is the Gym Girl Ultra comfortable and functional, its seriously stylish. The Endless Summer pattern has pink, teal, and white swirls and tendrils which are a perfect representation of the free flowing spirit I feel when wearing it. The skirt covers about 3-4″ of the top of my thighs and completely covers my backside so I can still look great while grabbing a bite or knocking out a few errands after a workout. Why hide under baggy sweats or skimpy track shorts when I can wear running clothes that not only flatter my legs and butt, but also show a hint of my real personality.  To be honest, I've been tempted to just put this skirt on a Saturday morning to wear around town.  The Gym Girl Ultra is a multi-tasker and low maintenance, too.  I wear the skirt at least once a week and toss it in the laundry on normal wash cycle and it stays bright and colorful.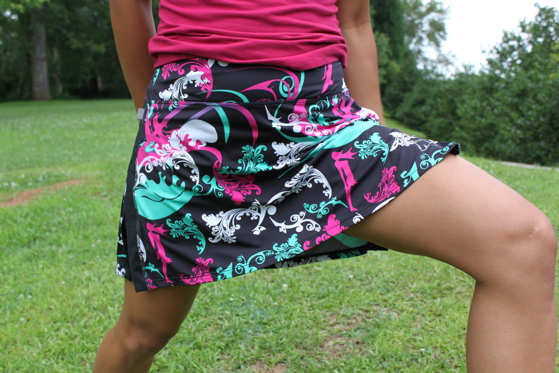 The Gym Girl Ultra is definitely my favorite piece of running attire for its high performance design and super stylish fit. I know I can count on this running skirt to make me look and feel good. Whether running a 5k or marathon, having a positive mental attitude is just as important as being physically prepared. I've found it's easy to get that extra boost of confidence to go just a little farther or push just a little harder by simply wearing a skirt!
Thanks a bunch to the folks at Skirt Sports for sending this fantastic skirt and a special thanks for inventing the running skirt!

Tags: gym girl ultra skirt, review, running skirts, skirt sports