posted by Chris Barber
Tweet
Why should you go trail running?  Because it's awesome.  There you have it.  Or because I do it.  Double awesome.  Seriously though, as Memorial Day weekend approaches I encourage you to take a day, grab a couple of friends, a camera so you can add pictures to SeriousRunning.com, and whatever else you need and go trail running!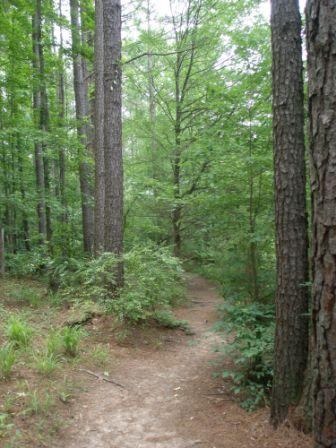 Trail running is a great way to escape your normal life and experience nature.  I prefer trail running to road running any day of the week…except the days that attractive people are out running on roads.  But when I want to feel my run, realize my run, and experience my run, I head for the trails.  I want to be one; with my run.
Trail running is optimal for experiencing the environment because the pace is perfect.  You're not slashing through trees and hopping over rocks like a mountain biker.  Also, you're not taking so much time to traverse the trail that you aren't able to see and experience everything which can happen when day hiking.  Trail running is just right.
I also encourage you to go trail running because it takes very little capital requirements.  You don't need a fancy bike or a top of the line backpack to trail run, you just need your two feet.  Well, maybe you should get some trail running shoes to put on those two feet.  I know, you only need two feet to go on a day hike too, but that just sounds lame to me.  My Mom goes on day hikes.  My grandparents used to take a day hike everyday.  You're a little more extreme than that.  You are a runner.  You run everyday.  Tell hiking to take a hike.  Zing!
So search for a local trail, take a short drive, and go trail running this Memorial Day weekend.  You'll enjoy it.