Monday, January 17th, 2011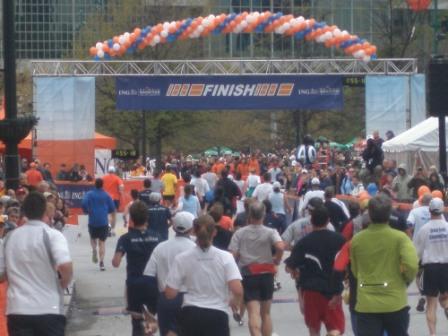 In the past week I have received an email from two different races promoting their new VIP sections, Publix Georgia Marathon (formerly the ING Georgia Marathon) and the P.F. Chang's Rock N' Roll Marathon and Half Marathon.  At first I thought this was a good way for races to increase revenue, but then I began to think is it really necessary?  Aren't we all runners and deserve the same amenities on race day?  Everyone runs the same distance and endures the same amount of pain after a race.  That's what makes runners such a tightly connected group.  Why would a race want to break up the comradery of runners?  Why wouldn't the race just improve its overall experience for all runners and attract more participants rather than charge more for a more comfortable race?  Maybe it's because the race logistically sucks.  Read my race recap of the 2009 ING Georgia Marathon to see what I mean.  I know I'd probably be willing to pay for the VIP at this race, but that doesn't make it right.
Here's what you really get for the $75 VIP charge:
Express Packet Pick-up Line at the Expo: This race requires everyone to go to the Expo to pick up their race number.  Why?  Because they want you to buy products from the vendor booths they charge to be there.  If they would just mail race numbers instead of forcing runners to attend the Expo, then there wouldn't be a need for express packet pick-up.
Reserved Race Day Parking Next to Centennial Olympic Park: If you read my race recap, I was late being dropped off to the race because of the traffic.  Then after the race I had to walk a mile back to my ride's car because that was the closest he was able to park.  However, I don't blame the race organizers on this, more so Atlanta's horrible mass transit system.  There is a subway station at the start/finish which should alleviate traffic, but the problem is that the subway stations are not very convenient to where most people live and are coming from.
Private Restrooms: I would pay good money for this; however, shouldn't the race organizers already have enough restrooms available?  All it takes is ordering more port-a-lets.  Its easy to estimate how many people will need to use the restroom, it's exactly the same as the number of participants.
Private Gear Check: The gear check before was just a tent to put bags under.  Anyone could have taken your bag or stuff so the rule of thumb here is to not bring anything you don't want possibly stolen.  So unless you are carrying your sweaty socks and underwear in a Gucci bag then this isn't necessary.
Pre-race Continental Breakfast: Who eats right before they run a race?  I guess you could show up to the race 3 hours early, but then you wouldn't need the reserved VIP race day parking space…
Free Post Race Massages: Wasn't this always free?  Race organizers don't even pay for this service, massage therapist do it for free to promote their business.  Just contact more massage therapist in the area so there isn't a long wait.
Post Race Buffet: Isn't Publix the headlining sponsor?  Shouldn't this be free anyway?
Printable Results Available Immediately Post Race: How about automating posting results online so I can view my results on my smartphone?  I've seen smaller races have results and print them out within minutes of finishing.  The finishing times are all automated, so where's the race organizers digital follow through?
Access to dedicated VIP Area located in the Metro Atlanta Chamber of Commerce near the Finish Line: Is this some sort of club that politicians hang out at or something?
The P.F. Chang's Rock N' Roll Marathon and Half Marathon call their VIP area "The Zone."  It gives you private transport to the start line, private parking area, fluid replacement drink, sunscreen, body glide, safety pins, and free gloves.  Really, they don't provide safety pins for your race bib unless you are very important?  I guess everyone carrying their race bib as they run aren't VI.  Why not just give them a scarlet letter to hold onto as well?
Overall I can't blame these race organizers for trying to increase revenue; race organizers would operate at a huge financial loss if they actually paid the thousands of people who volunteer to help execute the event.  In this economy major sponsors are spending less money on event marketing and people are less willing to pay high race fees.  However, more people have begun running because of the poor economy.  Therefore, the solve of lost revenue from race organizers shouldn't be VIP treatment at higher prices, it should be to increase volume of participants with better amenities and a lower prices.  I understand that there are capacity constraints because roads can only hold so many runners, but race organizers could spread out the operating time of the race; it's not like they are paying race volunteers by the hour.  With more start waves, spread farther apart, it would also alleviate having to provide adequate amenities for 50,000 people all at one time, thus overall race experience would improve.
I understand that race organizers need to make money, but I don't think it should be at the expense of improving their race.  Increase the pie, not your slice of runners.