Thursday, March 10th, 2011
This is the last installment of Sean Run Bum Blanton's race recap of the Destin Beach 50k and 50 mile ultramarthon.  Will he make it?  Build up the suspense, start at the beginning with Part 1.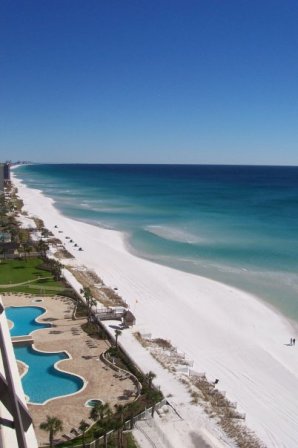 We passed some more race people checking our numbers and I saw one drinking a beer.  My eyes lit up.  I asked the guy if I could grab a beer.  He looked puzzled and laughed.  I told him I was serious and he tossed me an ice cold beer.  I chugged it.  Beer has never tasted so good.  I later motioned for a toss from some Frisbee players.  The guy overthrew me by 10 feet so I went into the ocean to retrieve it.  The ocean was like Andre 3000, ice cold.
The next aid station was at mile 36.  It was a restaurant that I was told we could order anything we wanted.  I had in my mind from the beginning of the race that I wanted oysters so I came into the aid station screaming, "Oysters, Oysters, I need half a dozen on the half shell!"  Apparently this wasn't a normal request because the aid station workers were laughing at me and I had to go speak with the owner about my special order.  He said he'd have them ready when I came back around after the turn, at mile 42.
Those next 2 miles to the turn around point were tough.  I saw some ladies playing beach volleyball, baywatch style.  My jaw dropped and my head moved; then my whole body dropped.  I stepped in a hole that some kid had dug, probably attempting to reach China.  Splat.  Right in front of the girls.  Smooth.  I walked it off like nothing happened.  I made the turn, passed the girls again, and reached my oyster eating aid station.  I threw down the sweet ocean goodness in no time and took off for the final 8 miles.
I decided to cut all my food and just hammer water for the last 8 miles of the race.  I don't recommend anyone else doing this, it's a gamble.  With about 3 miles to go I saw a familiar face, my boy Wayne D, aka LIL WEEZY.  He was shouting, "Blanton, Blanton pick it up!"  He really got my spirits up and told me to try to catch the guy in front of me to finish 3rd.  At this point I was more concerned about conserving my body, I still had to run a road marathon in 16 hours!
I closed a mile gap into 400m gap with 800m left to go in the race, but decided to slow it down and ease into the finish, I was here to complete the race, not race it.  I moved off of the hard sand onto the soft sand to finish line where I was greeted with a sweet custom finishers medal.  Final time:  8 hours, 32 minutes in 4th place overall!
I pounded some food and treated myself to an amazing post race massage.  I now stood in the wake of determination.  Or rather the wake of 50 miles, 3 beers, 6 oysters on the half shell, and a whole heck of a lot of fun.  Sun kissed and forever changed.  Humbled, yet happy.  I had found one hell of a good time and I will definitely be back again for more fun in the sun, only next year I'm going to make sure I don't forget my sunblock!
Now you've read about it, watch it.  The book is always better than the movie…