Wednesday, April 21st, 2010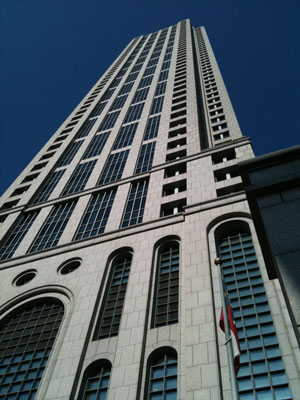 When I can't run on trails I like to run races that mirror urban trail running.  Last weekend I got a chance to participate in a unique race: running to the top of 191 Peachtree, a 50-story office building in downtown Atlanta. I was sorta bummed the race wouldn't be happening in the Bank of America building as it had in years past since BofA is the tallest in Atlanta (and 8th tallest in the US) but at 770 feet, 191 Peachtree ain't no slouch (it's the 4th tallest in the ATL and 57th tallest in the US). The race was held as a benefit for the American Lung Association and each racer is required to raise at least $100 in donations on top of the $25 entry fee.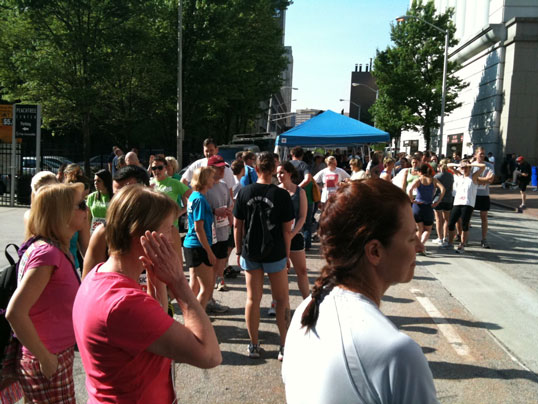 At around 9am on Saturday morning the racers lined up on the street outside of the building and I chatted a few folks up to see what my strategy should be. Everyone I spoke to laughed when I asked if they ran the whole way – most of them planned to walk. One guy I spoke with said he walked the whole thing last year in a time of around 12 minutes which didn't sound too bad. Heck, I could do almost anything for 12 minutes!
I hadn't done any training for the race but I still thought it should be possible to jog up at least the first few floors. A couple years ago I used to include stadium step running in my training routine and I was actually sorta good at it. But running stadium steps is a little different than running up 50 flights of stairs – at least you get a break when you descend the aisles.
At the race, runners were sent up the stairs in 10 second intervals to avoid a massive traffic jam. The event was chip timed with mats at the bottom and top of the course. I decided to start off at a decent clip, taking 2 steps at a time and I immediately started passing runners who started before me. Before I knew it I blew past the first water stop (seriously) on the 8th floor. Next thing I knew, I was still jogging at the halfway mark, 25 floors. My strategy was to run up the stairs and walk across the transition landings which helped because I was starting to get dizzy from running around in circles.
By the time I hit the second water stop at the 38th floor I was starting to feel pretty spent and around 40 I have to admit I walked 2 or 3 floors. With one final push to the top, I ran up the remaining levels and entered the 50th floor to a cheering crowd lining the hallway. Gatorade and sweeping views of the Atlanta skyline awaited and after cooling down for a few minutes I took the elevator back down to earth.
I didn't time myself during the run so I waited around for the results and was surprised at how well I did: 7 mins, 30 secs (9 sec per floor) which earned me third place overall out of about 200 runners. As my brother Chris said, it seems like I may have found my race. With a little training I'll be back next year, ready to take first!