Tuesday, July 16th, 2013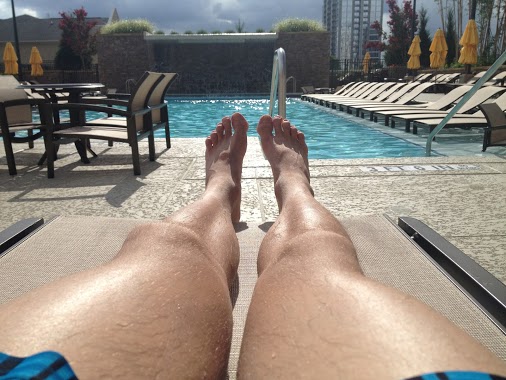 I thought I'd ease back into this blogging thing with the ever popular "toes with background" picture. Gotta get ready for the XTERRA World Championships…
I took this picture to show the alignment in my legs. See how they don't seem symmetrical? It's because they're not, I didn't cross train. The swimsuit? Oh, no, that's just my ordinary swimsuit. It's suppose to be like that.
The problem is that my quads are freakishly larger than the rest of the muscles in my legs because of too much running (apparently there's such a thing). My experience in the Army was to always push through walls and not to feel pain, but I've since learned that it's better to train smarter. I didn't listen to my body and pushed way too hard.
When you over train one area of your body you ignore the other muscles. It's all about opportunity costs, pick what you want to improve and start there. For me right now, it's everything but my quads….
So I swam. And then layed out.
And gave some muscles some much needed attention.