Monday, April 12th, 2010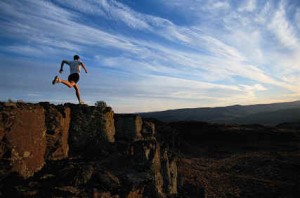 Most trail runners have experienced it, some run just to attain it, while others have no idea what a "Runner's High" is.  If you are a trail runner and have never experienced a Runner's High then you need to run faster, push your body harder, and attain the point where you lose conscientiousness of what your body is feeling.
A Runner's High can be described as an elevation of the senses while running, typically long distances and in a natural environment.  It is difficult for trail runners to describe the exact feeling (much like drug users) they get from a Runner's High, but many equate it to the feeling of an orgasm.  Another good reason to go trail running.
Technically, a Runner's High is associated with the release of endorphins in the brain.  Endorphins are any group of opiate proteins with pain-relieving properties that are found naturally in the brain.  The word endorphins comes from two parts: endo- and -orphin; which are short forms of the words endogenous and morphine, intended to mean "a morphine like substance originating from within the body."  Knowing that human cells have receptors for this drug suggests that the body produces its own morphine like substances which it is believed can be released into the body by running long distances and gives trail runners the feeling of a Runner's High.
While it is difficult to quantify exactly what feeling different trail runners get from this release of endorphins, it is agreed that there is a definite mood change.  The difference in Runners' Highs can be a positive or negative one with differing levels of intensity.  Maybe that is why many trail runners become so Serious about Running, because they are the type of runners that get this intense positive feedback from running.
Whatever the science is and however your brain reacts to trail running, one thing is certain, there is a typical emotional feeling derived from trail running.  Everyone records their feelings differently but there is always a point during a trail run that your body changes.  So go out for a long trail run, and push to attain a close connection between your mind and body.  Let your mind take over while your feet are still moving, one in front of the other, and you are only aware of one thing…yourself.  Trail running is a free self-awareness seminar!
So say no to drugs and help keep the kids stay off the streets.  Get them running on the trails instead and let's get hiiiiiiiigh together….on Trail Running.