Tuesday, February 1st, 2011
Last year I went to Outdoor Retailer and saw Merrell's new minimalist trail running shoe collection, well "glove" collection.  Each shoe is called a "glove" because they fit, "like a glove."  The Men's minimalist trail running shoes in Merrell's collection are the Trail Glove, True Glove, and Tough Glove.  One of the coolest things the Merrell rep told me was that each pair of minimalist running shoes sold will include instructions on minimalist running techniques.  I know too many people who have tried minimalist running to help with an injury, without changing their running style, and end up injurying themselves more.  Most new minimalist runners don't know that they need to change their style.  Well, the ones who buy the Merrell shoes

will…
The first women's minimalist trail running shoe in the Merrell collection is the Pace Glove.  The Merrell representative told me that the Pace Glove is the "medium" of their three shoes in the Women's collection.  It is made for runners who haven't yet made the transition to minimalist running and want a shoe that gives them the same feeling without sacrificing protection.  The upper is made with an air mesh.  They have a lacing system called Omni-Fit which is the reason the shoes feel like a glove.  This is also important because the toe box is a bit wider than normal; in order to give your feet the feeling of running barefoot.  The heel cup is same as the lacing system, made of a synthetic leather to keeps your foot tight in the shoes.  There is a fused rubber at the front which is really sturdy and protects well against roots and rocks.  The sole is made from a rubber compound by Vibram for protection as well.
The next shoe in he collection is the Power Glove.  The Power Glove is more of a hiking shoe than a trail running shoe, but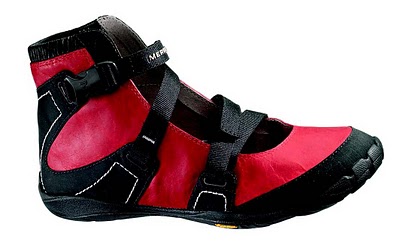 could be used for both, kind of like a road to trail shoe; a hike to trail running shoe.  It's a little bulkier than the others so if you aren't sure about minimalist trail running this may be the shoe you want to try first.  The upper is made of soft leather for the tight fit around the ankle.  The lacing is different though, using the Double Merrell Easy Z-Rap Closure System.  These are kind of like the Velco shoes you used to wear as a kid.  They make for a tight fit around your foot and ankle; good for those who have problems rolling their ankles, and allow you to never have to learn how to tie your shoes!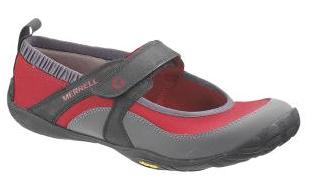 Pure Glove is the lightest in the collection.  They call it "pure" glove because it is the closet to natural, they let your feet go free while giving them the protection and traction your bare feet just don't have.  It has a lycra mesh in the upper which makes it super light.  It also only has on strap in the front, giving your foot freedom of movement and the feeling of running barefoot.  This shoe is for runner who want to go barefoot running, without going barefoot running.  Trails can be tough!
All of the shoes also have a microfiber footbed treated with Aegis antimicrobial solution.  The Merrell rep told me this was to resist odor but I'm not sure why they put it in the Women's shoes.  Women's feet smell like flowers.  I mean, not roses, but lilies at least.