Wednesday, February 8th, 2012
Ok, so trail running isn't the first thing that comes to mind when I think of Pearl Izumi but at Outdoor Retailer I got a chance to check out their latest running gear and came away suitably impressed. With products ranging from footwear to outerwear and tights, Pearl Izumi offers a full line to outfit trail runners for extreme conditions.
Footwear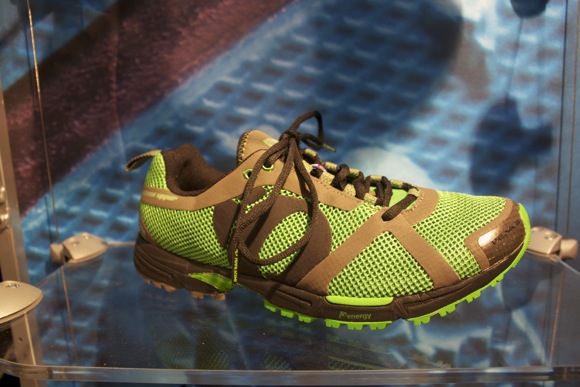 Pearl Izumi is offering several trail-specific shoes in 2012 but the one that caught my eye was the Peak II. The shoe felt incredibly light in my hand while featuring a decent amount of cushioning. The Peak II promises great protection against rock strike, both in the toe and forefoot, yet I found the sole to be fairly flexible. The inside sock liner felt extremely luxurious and I really appreciate the subtle nod to the state of Colorado on the tongue ribbon. Pearl Izumi calls this a "minimalist trail running shoe" but fortunately the Peak II doesn't use the minimalist concept to sacrifice quality or comfort like other shoes on the market.
Pearl Izumi also offers shoes oriented toward road running and I could definitely see myself wearing something like the Syncro Fuel RD on urban runs that incorporate off-road detours along the way.
Outerwear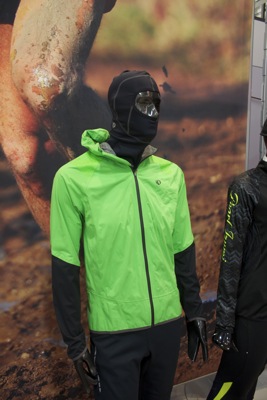 The Ultra Barrier WxB Jacket from Pearl Izumi features Cocona fabric technology, a waterproof-breathable treatment that many companies from the North Face to Isis are using in their clothing these days. The upshot: you'll stay warm and dry without soaking yourself from the inside with sweat on your next trail run. Of course if you're like me you'll probably need to reserve this jacket for only the coldest and wettest trail runs of the season.

The Ultra Barrier WxB can be completely folded and stored in its integrated pouch and features a hood as well. This jacket should retail for around $180 MSRP.
Running tights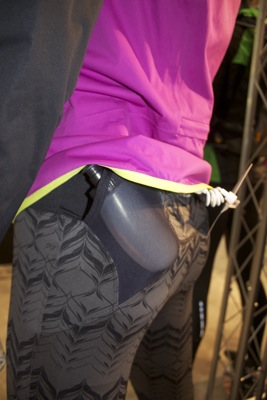 Apparently we're not the only ones who think fuel belts look ridiculous on runners (the fanny pack of this generation!). Pearl Izumi has integrated mesh bottle holders into tights like the ones pictured above to position bottles for maximum comfort and agility on the trail.
Pearl Izumi's US operations are based outside Boulder, CO, a hotbed for trail running and outdoor activities and the company's understanding of runners' needs is clear in the 2012 line. We can't wait to see how these products perform on the trail!