Thursday, May 28th, 2009
I recently got a new pair of running shoes, the Mizuno Wave Inspire 4s and I love them.  Why didn't I get the Mizuno Wave Inspire 5s?  Because it's a bad economy.  I know, 5 is higher than 4; therefore, better.  But I don't think there is much of a difference between these versions of running shoes; just minor changes that aren't worth the price difference to me.  Didn't you know it's cool to be cheap these days?  It's also cool to be retro.  Double cool points.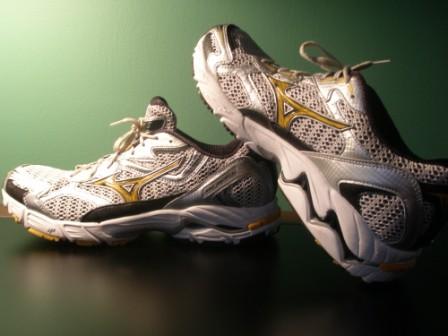 I was a New Balance guy when I was in High School running track and cross-country.  Then I was a Nike dude when I was running in the Army.  After the Army I got more serious about my running (pun intended, why is everyone unintending puns?  Puns are great!) I was a Brooks runner.  Now I'm a Mizuno man and I feel great about it.  The Mizuno Wave Inspire 4s are a great stability running shoe with more cushioning than other stability shoes I have worn.  They seem to be built wider than normal running shoes which isn't an issue because I find that over time shoes narrow and mold to my feet.  To help this process I add my own, shorter shoe laces (see picture above) to all of my new running shoes.  Check out my research on why running shoe laces have become so long.  I'm a running shoeientist.  Although these shoes are a bit loose, my heal does have a snug fit in the Mizuno Wave Inspire 4s because of the stretchy fabric to the upper, in front of the heel counter which helps isolate the ankle's outward motion.  This seems to curtail my overpronation some.  I'm always doing things in excess.  I also like the cushioning in the heel which is due to the VS-1 shock-absorbing cushioning compound.  The Mizuno Wave Inspire 4 has a medium arch which seems to be right for me but I don't pay as much attention to my arch as I should.  The only negative aspect I have found with my Mizuno Wave Inspire 4s is that the tongue seems to be too narrow and folds under the edges sometimes.  You just have to be aware of it and make sure you don't let it start rubbing your foot.  Much like a male canine.
So what's the moral to this story? The Mizuno Wave Inspire 4s are pretty legit and you should buy them.  That, and that you should keep trying different running shoes until you find the best one that fits you at the time.  It's OK to change up the type of running shoes you wear.  It's good to keep your body guessing.  Don't you want your body to stay interested in running?  Stay mysterious.  Soon your body will be eating out of your hands…wait…