Friday, August 27th, 2010
Ultra runner Hawaiian Shirt Ray shared his experiences with us about the Leadville Trail 100 Training Camp about a month ago and now he's here to tell us about his race.  Check out his awesome website helping ordinary people do extraordinary things.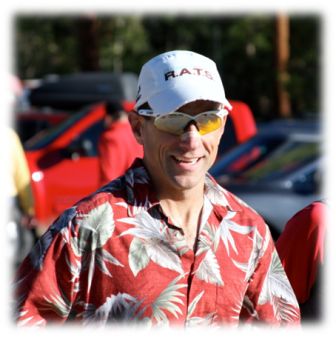 Raising the Bar
Its Hawaiian Shirt Ray again and I am "fresh" off running the Leadville Trail 100 for a third year in a row.  I would like to share my experience running the race, but I am not going to bore you with a play-by-play of running aid station to aid station. I would like to share my experiences during the race and my previous races and hopefully be able to inspire you to dig deep when you are in a race and things are not going as planned, and help you realize; as Ken Chlouber (President of the Leadville Trail 100) says, "you are better than you think you are and can do more than you think you can."  For me this was my third time running Leadville Trail 100 and I decided to raise the bar a bit higher than just to finish in under the 30 hour cutoff; I set my goal to run the Leadville Trail 100 in under 25 hours!

The Leadville Trail 100 is Bigger than Just Me
This race is bigger than just me.  It is a combination of all my friends and family who helped me get to the starting line.  This includes all the outings I missed because of a racing or training, having my friends take care of my great dog Simon and them have to rearrange their schedules around me. I think you get the point; training and racing takes a toll on our loved ones and without their understanding and constant support it would make it impossible for me to run the Leadville Trail 100.  So when I am running the race I keep this in mind.  If I quit I am failing all of those who helped me get to the starting line.  Sure, if I quit my friends would tell me that they were proud of how far I gone, and say something to the effect of "I would never be able to do what you have done", blah, blah, blah; but for me the reality is that I failed all of them.
My Great Crew
My attempt at running the Leadville trail 100 in under 25 hours would have been impossible without my great crew. Being part of the crew is not an easy thing.  There is a lot of waiting around, planning, and preparation. For my first Leadville Trail 100 in 2008, it rained, hailed, sleeted, and snowed for 28 of the 30 hours of the race.  Talk about being miserable for the crew. For the third year in a row my sister Laura was my crew chief and a pacer.  After last year she looked me in the eyes and said that she will never do this again.  The next day she said she was sorry and would do it again.  For the crew it is just like running an ultra; it is a long day, none stop, and exhausting.  As a runner we cross the finish line and say "never again".   Then the pain goes away and we sign up for our next event.  It is pretty much the same for the crews.
Also in my crew was Rick Mann.  He crewed with my sister for the entire race and was always upbeat and positive when I came through the aid stations.  My other pacers were Lina Kelso: paced from Winfield to Twin Lakes (miles 50 to 60.5), David Besnette: paced from Twin Lakes to the Fish Hatchery (miles 60.5 to 76.5), and Neeraj Engineer: paced from the Fish Hatchery around Turquoise Lake (miles 76.5 to about 93).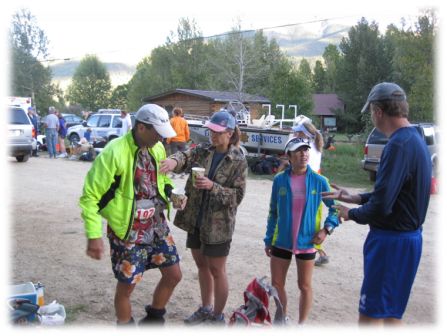 Talking with my sister after the race she told me how nervous my crew was not to let me down, and that they hoped that they would really be able to help me with my goal.  She also told me about how excited they were to be part of the Leadville Trail 100.  Hearing this made me feel good because here are my friends sacrificing their weekend for my goal.  My hat is off to everyone on my crew, thank you so much!
My Goal of 100 miles in less than 25 Hours
The Leadville Trail 100 has a 30 hour cut off to finish and all the runners who finish in less than 30 hours receives an "Under 30 Hours" belt buckle.  For those runners who can finish the race in less than 25 hours, they receive a much larger "Under 25 Hours" belt buckle.  Well, after running the race for the last two years I wanted the big buckle.  You should know that my times for the last two years were: 29 hours 44 minutes 6 seconds, and 29 hour 12 minutes 26 seconds.  So I had to shave a mere 4 plus hours off my best time.
There is usually around a 55 percent attrition rate which means when you are at the start of the race looking at all the other runners; more than half of them will never see the finish line.  If you do not have the mindset that you are not going to be one of "them," you will become one of "them."  Standing at the starting line of the Leadville Trail 100 you must know that you are going to do whatever it takes to keep moving and get across the finish line.  You have to be prepared to dig deeper than ever before and keep my mantra of "you gotta keep moving," running through your head.  I knew I was not going to be one of "them."  I trained hard, had the best season of my life, and I was going to put it all out on the line to get that "Under 25 Hours" buckle!
Digging Deeper than I ever Have Before
To accomplish my sub 25 hour goal I had planned all my splits between aid stations which put me across the finish line in 24 hours 55 minutes.  This really did not leave me any breathing room, but it was the reality of getting the big buckle.  I have trained on the course many times this year and I was secretly hoping that I would actually run a bit faster than my splits and start "banking" some time.  I'm not talking a lot, but just a few minutes here and there.  The splits made the race different than my last two finishes since before my goal was to just finish.  In my previous two finishes there would be sections of "why bother running this, I have 30 hours."  Well I did not have that luxury this year and I had to run sections of the race that I never have run in the past.
My splits kept me honest and made me start digging deep early in the race.  By the time I made it to the 50 mile turn-around at Winfield I had 20 minutes in the bank.  I left Winfield feeling pretty good about where I was at time-wise and the three mile stretch to the Sheep Gulch Trailhead went good.  Then I started the climb back up and over Hope Pass and my legs had nothing in them.  I hit my lowest point of my race climbing back up over Hope Pass and it took everything I had to make it to the Hopeless aid station on the other side of Hope Pass.  I sat at the aid station while Lina tried her best to get me moving again.  I had to regroup and get some food in me.  It was so hard for me to stand up and leave that aid station and I had to dig deep to keep moving.  Once I started headed downhill my legs loosened up and I was able to run again and I was on fire all the way back to Twin Lakes.
Unfortunately the time I had in the bank was now down to two minutes.  My secret desire of banking time and not having to push from aid station to aid station was gone.  If I wanted that buckle I would have to push through to the next aid station, and then the next and the next.  I kept pushing and digging deep and when I finally got to the May Queen Aid Station (the final aid station) at mile 86.5 I had 3 hours 4 minutes and 4 seconds to get to the finish line in less than 25 hours.  Here is the kicker, the last two years through this 13.5 mile section my times were: 4 hours 1 minute, and 3 hours 42 minutes.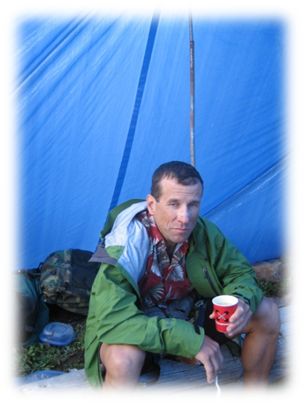 I left the May Queen Aid Station running.  I mean running!  Neeraj was pacing me and could not believe the effort I was giving especially after running 86.5 miles.  I knew that I had to give it all I had; I mean EVERYTHING!  I ran that last 13.5 miles faster than I ever have before.  I did it in 3 hours 10 minutes.  Do the math, I did not make sub 25 hours.
The Finish was in Sight
I pushed that last section so hard and left nothing on the trail.  I even dropped my pacer when with about 25 minutes left I picked up the pace.  It hurt so bad to be running that last section into town which is all up hill.  I could see the finish line when 25 hours expired, but I kept running all the way in.  I was going to give it my all and I did!  Although I missed my goal words can't describe how great I feel about my 25 hour 7 minute 29 second finish.  I can't look back at any part of the race and say "if only I pushed harder".  I pushed the entire race.  I guess the point of all off this is that in life if you are true to yourself and give whatever goal you are working toward your all, I mean really your all, everything; although you may walk away short you can still stand tall and be proud of what you have accomplished.  You must also learn and grow from your experience and become a better person for it.