Monday, November 22nd, 2010
I went to Outdoor Retailer a couple of months ago and still haven't been able to share everything I learned yet.  Come on, I know you would rather go trail running than read about trail running.  The reason I know this is because you're reading the blog while forced to be in front of a computer at work.  I've seen the web statistics, no one visits SeriousRunning.com after 5 pm or on the weekends.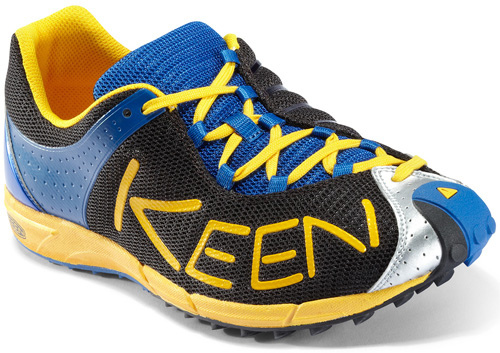 While at Outdoor Retailer I kept passing by the Keen booth not quite sure what to make of them.  They offer a lot of products, predominately bulky hiking shoes with a lot of support and durability and started with a closed toe sandal.  Well just like everyone else, Keen is trying their hand (or foot) at the minimalist trail running shoe movement with the A86 due out in January 2011.
Instead of an over-sized toe guard like most of Keen's heavy duty products this shoe is like a racing flat.  Don't worry, the A86 trail shoe does have a small toe bumper in the front.  The lack of bulk still doesn't compromise the support and comfort needed in a trail running shoe.  The Keen A86 is 9 ounces and Keen boasts, "has a glove-like fit and a feather-light feel."  The asymmetric lacing allows trail runners to make the shoe as tight or as loose as they want for that lightweight minimalist feel.  The tight fit still breaths too with a consistent mesh upper allowing air to flow through the feet.  The light PU mid-sole provides ample shock absorption and the high rebound foot-bed gives that extra cushioning you may need, but it is removable if you want a more minimalist feel.  The dot matrix, multidirectional 3 mm traction lugs make it fit not slip on the trail.
Keen says they stand to, "create, play, and care…for us it's a way of life, we call it the Hybridlife."  We'll see if they can create a hybrid minimalist and trail running shoe that we care to play in.  The design looks great and the feel is promising.  This could be a great minimalist trail running shoe or perhaps like the famous band Keane (not Keen) says, maybe they are, "Trying to make a move just to stay in the game."
Note:  Trail Running and Minimalist Running are not games to us.