Wednesday, June 16th, 2010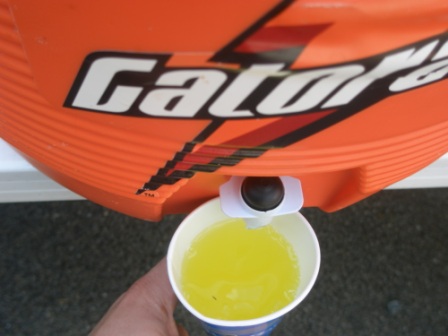 Hydration and energy are essential for successful Trails Runs, but is yours being sabotaged by sports drinks?
Sports drinks were originally developed by scientists at the University of Florida in 1965 to help the school's football players perform better during their 3-hour long games in 100-degree heat. Sound like your Trail Runs? Didn't think so. Most of us have trail runs that last from 1 to 1 ½ hours at a moderate pace. The American Dietetic Association explains that unless you are an elite athlete or engaged in vigorous activity for more than 1 hour, plain water works perfectly for hydration.
There are two main components of sports drinks that aid in performance and hydration: carbohydrates and sodium. The carbohydrates come in the form of sugar to sweeten the drink and to add calories for energy. The sodium works to replace the sodium lost in sweat. However, neither of the components are necessary in drinks used for thirst and hydration for moderate runs that last less than 1 hour. In fact, drinking sports drinks when they are not necessary can add extra calories to your diet. The usual size 20-ounce bottle of a sports drink has an average of 140 calories, which means that you will have to run an extra 15 minutes just to burn it off!
Instead of drinking regular sports drinks, here are some healthy options:
- Flavor regular water with lemon, lime or orange slices
- Use lower calorie versions of sports drinks such as Gatorade G2 (71 calories per 20-ounce bottle), Propel Fitness Water (25 calories per 20-ounce bottle) or Powerade Zero (0 calories per 20-ounce bottle)
- Dilute your favorite sports drink with regular water
I know what you are thinking. "But I always drink Gatorade during races. It makes me feel better." And you are right! There are instances when you do need to replace needed calories and energy during or after trail runs. I know that when I am training for half marathons, I tend to get leg cramps at night. What does that say to me? I am losing too much potassium through my sweat and need to replace it better. Ways to do that are through potatoes, tomatoes, bananas, oranges, or sports drinks! Consequently, I usually end my long runs with a large glass of Propel, berry flavor to be exact. The 45 minutes directly after your run is the best time to replenish the body's losses.
Essentially, think of your body as a night club. As the night goes on, more and more cabs line up to take people home. Just like as your muscles work, they need to be replaced by what they lose, so transporters in your body line up to bring those lost elements from your bloodstream to your muscles and tissues. After the night club closes, people linger for awhile, so the cabs stick around for another 45 minutes or so to assure that everybody is brought home safely. Similarly, in your body, those transporters stick around for about 45 minutes to bring every needed mineral and nutrient available to replenish the muscles and tissues, which help to prevent soreness and cramping.
Moral of the story: Sports drinks work magnificently to replace your body's losses if you are trail running for longer than 1 1/2 hours, hit that wall during a trail race when you feel your energy bottoms out, or are in need of extra calories and electrolytes. Otherwise, water is your best bet. It will quench your thirst without adding excess calories that you just worked so hard to burn off.
Happy Trail Running and Hydration!
-Lanier Thompson, M.S.