posted by Chris Barber
Tweet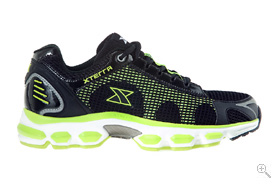 XTERRA Footwear is having a 50% off sale on their Trail Running shoes now until December 17th.  Looks like Christmas is coming early for trail runners.  Use coupon code:  "Xmasjoy" when checking out to receive the 50% discount.  XTERRA started as a SUV, then it was 1 trail race, and now it has grown to 195 events in 16 countries!  It is the premiere trail running organization which spans across the United States and now they have moved on to making trail running shoes.  Why not, they have the feedback of thousands of trail runners all over the nation, who have run and raced on all types of trail surfaces?  Their team members worked for many of the best footwear brands in the industry.  Now they are building the best trail running shoes for the greatest running events anywhere.  Their shoes have been tried and tested on the most intense race courses XTERRA has to offer.
XTERRA has made a trail running shoe that performs on hard packed dirt, loose soil, sand, rock, asphalt, or a combination of all.  XTERRA Footwear builds shoes for the XTERRA races, training, and outdoor lifestyle.  The XTERRA XR 1.0 is made for support and stability which doesn't mean it has to be "overbuilt" and bulky.  It's lightweight and stable which provides the optimal flexibility, breathability, cushioning, and support to handle trails and neighborhood roads.  The XR 1.0 is made for heel-strike and forefoot runners.  Colin Chapman, designer and builder of the Lotus Cars, once said, "Simplify and add lightness" and that's what XTERRA tried to do with the XR 1.0.  They found that most trail running shoes were too stiff, too heavy, and the lugs were so sever they could be felt through the shoe, but running on trails in a road shoe didn't provide enough support, traction or protection.  That is why they developed the hybrid XTERRA XR1.0 running shoe, a shoe that can go both ways.  So enlightened.
The XTERRA XT1.0 and 2.0 is a light, comfortable running shoe designed for XTERRA trail rac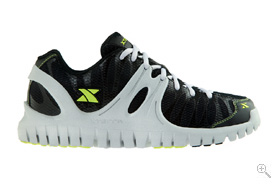 e training.  XTERRA race training includes all things active and fun.  Your routine might include running your favorite trail, hiking, scrambling, playing hid and go seek, chasing Fido at the park, surfing, leaping tall buildings, or even going to the gym.  (Lame).  At any rate, the XT 1.0 and 2.0 are made for all of those activities plus running.  If you don't like having to change your shoes then this is the running shoe for you.  This shoe is designed for shorter XTERRA and road races.
So how do they fit and feel?  Well I don't know what your foot shape is, but that doesn't matter, XTERRA offers a 100% absolute guarantee on any purchase of shoes!  50% off and a 30-day money back guarantee, you can't go wrong with these shoes as a present!  Go to XTERRA footwear and get your Christmas shopping complete.
Tags: XTERRA