posted by Chris Barber
Tweet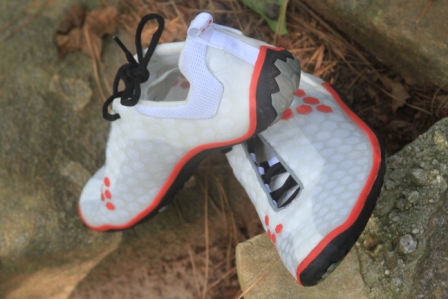 Galahand Clarck, a 6th generation shoemaker, took over eco-friendly shoe company Terra Plana.  At the time he noticed an old university friend of his who introduced him to the benefits of natural movement.  Clark, who previously lived in China already understood the importance of foot health through his exposure to Eastern medicine, began talking to experts, coaches, and biomechanic experts.  In 2004, with the help of podiatrists and movement specialists, Terra Plana developed Vivobarefoot with a mission to improve posture, sensory perception, and general well-being.  Weird, I thought Chris McDougall was the first person to realize the benefits of barefoot running.
The Vivobarefoot Evo has a patented
ultra-thin puncture resistant rubber sole which allows Vivobarefoot to offer all the health benefits of being barefoot with the protection of normal running shoes.  I started running in these on the roads, but quickly moved to the trails and they held up just as well on the tough terrain of trail running.
The bottom of Vivobarefoot Evo is made of an ultra thin rubber that is very bendable.  You can fold these shoes in half and stick them in a backpack if you decide it's time to run naked; barefoot I mean.  Although the bottom is thin, it is still made of very tough rubber.  You barely feel the ground in these shoes when running on any type of surface.  The soles have small hexagons evenly across the entire bottom except for where the arch is.  I hypothesize that this is to save some of the weight from the shoe, why put traction on a portion of the shoe that doesn't touch the ground?  These lightweight minimalist running shoe soles protect your feet and have something that your feet don't, traction.
The upper is made of a very thin fabric with a plastic honeycomb on it.  Apparently it's a TPU cage with lightweight mesh and microfiber reinforcements to provide maximum breathability.  Well I can attest that they breath really well, and you don't even feel the sides of the shoes when running which gives even more of a barefoot feel.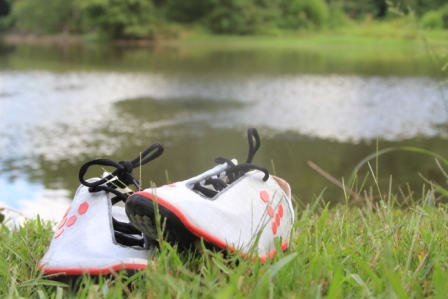 There is a thin insert in the bottom of the shoe that gives you a little cushioning.  Although there is cushioning, it's done the right way for a minimalist running shoe, it's distributed evenly across the foot so your running style doesn't favor landing on your heel like in traditional running shoes.  The shoes are made to fit loose so your foot can move naturally like when barefoot running.  The front of the shoe is wider than the back to allow your toes to move around while running.  However, this makes for a loose fit with a tighter fit in the heel so your foot doesn't come out of the shoe.  I got blisters from the heal the first time I ran in the Vivobarefoot Evos but I blister easily, just make sure you wear socks with these shoes the first couple of times you run in them.
I also really like the look of them.  They look a bit like a 80s European style, which of course is awesome.  I plan to wear these out around town so I'll always feel like I'm barefoot!  These shoes are perfect for anyone who wants to make the transition to minimalist running shoes, just remember to also change your running style when making the minimalist transition and get on the trails!
Tags: minimalist, review, Terra Plana