posted by Chris Barber
Tweet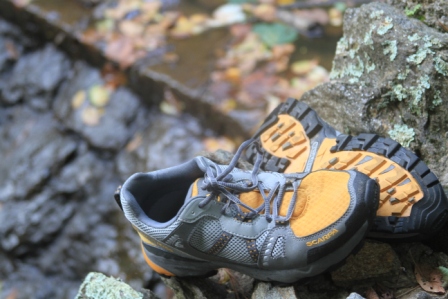 I got a pair of the Scarpa Pursuit Trail Running shoes a while back, but I was in between running shoes at the time so I really didn't take the time to try them out until later.  I wish I had tried them earlier though, they are a great shoe to throw into my trail running mix.  I like to use different trail running shoes depending on the intensity of my run and terrain.  The Scarpa Pursuits are my slow paced, comfort trail running shoes.  Scarpa boasts, "cushioning meets stability" and they are right on.  The Pursuits have the comfort of a hiking shoe and the stability of a trail runner.  So if you are looking for a performance or minimalist trail running shoe, then these big guys aren't for you.
These are my first Scarpa trail running shoe and I have to say that I'm pretty impressed.  The thing that sets them apart from other trail running shoes I've tried is the triple density midsole which gives a much softer ride on both the heel and forefoot.  When my knees are hurting from yesterday's run and I still need to put some trail miles on, these are the shoes I run in.  The insoles are removable, but these trail running shoes don't require any additional inserts, which is a nice change for once.
They give good traction but I am very careful when running on wet rocks in these shoes.  The soles remind me more of a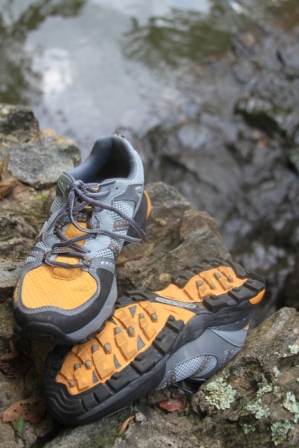 hiking shoe than a trail running shoe because they have large traction squares around the outer portion of the sole.  The middle of the sole are large triangles that weave into each other giving a fast push when running over loose dirt or sand.  The soles are very flexible which gives more of a lift in each step which helps propel you even though the Scarpa Pursuit is a heavier trail running shoes.
The front toe guard is sturdy and allows for some protection from rocks and roots on the trail.  The heel cup also has some hard plastic which gives it some protection and provides stability.  The upper is made from synthetic leather and mesh.  The sides are mesh which allows for them to breath; however, these shoe are more suited for cold weather running.  A lot of the comfort is derived from thick sides that line the heel cup and the toes.  The tongue is also made of a thick fabric which ads to the comfort and warmth.
Overall, these are solid trail running shoes, but may be more suited as a day hiker or everyday wearing shoe.  They provide a lot of comfort and good stability, but this adds weight and bulkiness that is just too much for a trail runner.  It's a great shoe to put in your trail running mix for a slower, more comfortable ride, but I wouldn't recommend this being your primary trail runner.  If you are looking for a day hiker or an everyday shoe then grab a pair of Scarpa Pursuits for sure.
Tags: Scarpa