posted by Chris Barber
Tweet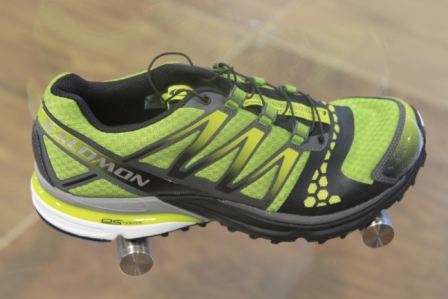 Salomon had some pretty sweet new trail running shoes on display at outdoor retailer this year.  I got the sneak peak at the new XR Crossmax Guidance (Women's) and XR Crossmax Neutral (Women's) trail running shoes which haven't been release yet.  I got to play around with them and had the Salomon experts tell my why these shoes are so close to spectacular.
Salomon boasts the XR Crossmax Trail Running shoes as being built for door to trail running; strong enough for the road, but PH balanced just for the trail.  I personally love to run to the trail so I am glad that a running shoe company is realizing the need for a hybrid shoe that works for both road running and trail running.  Salomon is making this their focus for 2011 because they think it's the next big thing.  It makes sense, every trail runner probably runs on roads and buying two pairs of shoes sucks.  We'll see what the public thinks when these are released.  I also like that Salomon has broken down these trail running shoes into motion control/stability (XR Crossmax Guidance) and neutral/cushioned (XR Crossmax Neutral).  Until recently trail running shoes were merely categorized as "trail" with no denotation of what type of pronation they are built for.  It seems Salomon is listening to their trail running customers.
The grip on the sole of the Salomon XR Crossmax Trail Running shoes are built for traction.  The grip under the toes is an aggressive shaped grip that is a new product Salomon calls contragrip LT, which stands for lightweight.  The front is made up of hang glider shapes, which point to the toe of the shoe for that extra traction when pushing off of loose sand or dirt.  These shoes were definitely made for runners who run on their toes.  The heel grip is totally different, Salomon calls it contagrip HA for high abrasion.  This heel grip is focused more on support and durability rather than traction and runability like the front.  One the bottom of the shoe the Salomon XR Crossmax has an over-sized tendon that looks like a glow in the dark tube running from the toe to the heel of the sole.  This is to give stretch and balance from the heel to the toe in transition.  It is made to absorb the flexibility when your foot makes its transition, like the tendon in your foot.
The upper fits snug for a couple of reasons.  First, it is an all welded upper with very little stitches so you don't get blisters in different parts of your foot from running.  It is made out of sensifit which is a stretchy mesh that goes all the way across the top of the instep.  This is made for a tight fit around your toes but loose enough so it won't irritate them if you have injuries or are susceptible to blisters.  Also, the inside is a one-piece liner so the interface of your foot is seamless with the shoe.  Snuggy.
Check out a pair of the Salomon XR Crossmax Guidance and Neutrals when they are released.  Start saving your running shoe money, these trail running shoes are going to be retailed for about $130.
Tags: Outdoor Retailer, Salomon