posted by Chris Barber
Tweet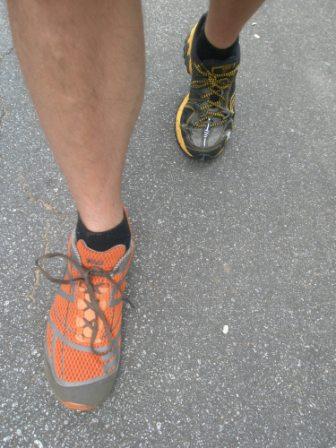 This is a question asked on the running forum that I thought I would share:
"After always buying cheap running shoes (but never having issues), I decided to go to the local running store and actually get fit for shoes. I've only ever run in Asics or Sauconys, but I got fitted with Brooks Adrenaline 9s. Every run I blister uncontrollably, but on my left foot only. I went back to the store and it turns out that my left foot is smaller than my right… so I've been wearing extra thick socks — nothing… the left foot still blisters really bad. I've heard that the Adrenaline 9s are very different from the 8s, but I never owned the 8s to begin with. What's the best way to deal with this? Thick socks aren't cutting it… should I buy a second pair in the smaller size and wear two different size running shoes? That sounds expensive… help!"
Wow, sounds like you are in desperate need of "help!"  Well, that's what I'm here for, to help.  I mean, not using my expertise could create a moral hazard.  First off, I like that you went to your local running shoe store to try out some running shoes.  I recommend this for any runner who is unsure of what type of running shoes their feet need.  However, if you know what kind of shoes you need, I suggest using SeriousRunning.com to get the best prices and the largest selection of running shoes.  Too easy.  As far as the Brooks Adrenalines, I like them, but I'm hearing too many people say that their running shoe store has fitted them for these shoes.  I am beginning to wonder if Brooks is putting any incentives to running shoe stores to sell this brand.  I may need to do some investigative journalism, Wall Street Journal.
Thick socks are a great way to solve this problem but it sounds like you have a much larger difference in foot sizes for this solution.  One foot becomes larger because when we stand for long periods of time we often shift our weight back and forth, usually favoring one foot over the other.  This causes that foot to swell and flatten out more than the other foot.  If you want to stop this problem from occuring I suggest concentrating on where you shift your body weight when you stand and ease off your fat foot for a change.  You don't have to buy two pairs of running shoes like the running shoe industry would like you to do.  Check out OddShoeFinder.com to get a matching pair of shoes plus great information for people like you.  See, everyone has a place on the Internet!  Isn't it good to know that you don't have to fight a fat foot problem alone!
As for the blisters, check out this article.  I actually am very blister prone so I have a lot of experience with them, but then again, I have a lot of experience with everything.  And whatever I lack in experience I compensate with my swagga.