posted by Chris Barber
Tweet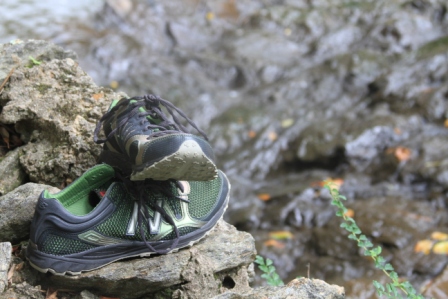 I got to take home a pair of the new New Balance 101 Minimalist Trail Running Shoes from Outdoor Retailer a couple of weeks ago and I've been taking them for test spins on my trail runs ever since.  I'm not new to New Balance minimalist trail running shoes, I checked out the 101′s father, the New Balance MT100 minimalist trail running shoes a while back and really liked them.  The 101s have the same genes as their father, but they have a personality all of their own.  Acting like your father isn't cool; unless your dad is Willis Haviland Carrier or something….
The New Balance 101 minimalist trail running shoes have the same exact sole as their father.  Just like the 100s, "The heel of the shoe is made up of cut outs for rear traction.  This really helped when I was running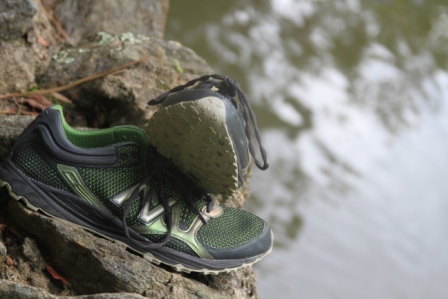 over some sandy and rocky terrain as I was able to push off better.  The midsole tread looks like someone took an ice cream scooper and scooped out pieces of the sole.  My guess is that this is to reduce the weight of the shoe, as well as increase flexibility and breathability.  You won't be getting any dirt, mud, or rocks caught in these cylinder shaped holes.  The front tread is made up of some smaller ice cream scoops but mostly squares around triangles which lend for good traction while still giving you ample feeling of the trail."  Honestly, who quotes thyself?  I do I guess.  The midsole is very flexible which allows the shoe to bend like your foot does, giving you the minimalist feel.  However, the soles are tough enough (are you tough enough NKOTB?) that I've run on all types of gnarly terrain in these babies and the bottom of my feet haven't hurt yet.  This son understood what his father meant when he said to make sure to always have protection.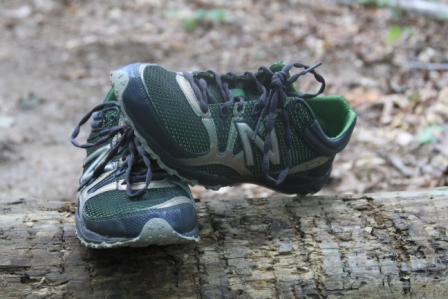 The biggest difference in the New Balance 101 is the shape of the front of the shoe.  The protection strip in the front is made of a sturdier plastic and covers more area than the MT100s did.  An upgrade for sure.  The toe area also seems to be wider than than the New Balance Trail 100s too.  I really like this difference because it gives my toes more freedom to move around while I run, allowing the shoe to harness the benefits of minimalist running.
There is less cushioning in the New Balance 101s than the 100s, but you won't notice it when you run.  They're minimalist trail running shoes, so if you looking for cushioning then you should check out a pair of cushioned trail running shoes, not these running shoes.  There is an area for your foot to rest if you have high arches, but the NB 101 minimalists don't have any arch support.  It's about time you stopped supporting your arches, they're well over 18 now.
The upper is a synthetic mesh which keeps the New Balance 101 Minimalist Trail Running shoes dry and breathable.  I ran these straight through a couple of creeks and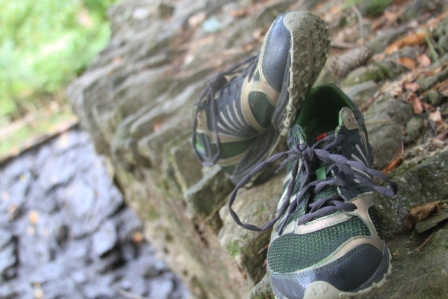 they were dry in a matter of steps; as you can see from my picture to the right!  They also have New Balance's Sure Lace technology but let's get serious, did shoe laces really need new technology to keep them from becoming untied?  I have my own Sure Lace technology, it's called double knotting.  There is more fabric on the lip of the tongue (make sense?) than the New Balance MT 100s which is nice because it keeps the ultra-lightweight tongue from getting stuck down in your shoe.
Overall, these are very legit minimalist trail running shoes.  Not many changes from the New Balance 100s, but if it aint broke, don't fix it.  New Balance did come out with the new fly green color.  Check out the other colors when New Balance releases the 101 Minimalist Trail Running Shoes to the public!  Hope you enjoyed the sneak peek!
Tags: minimalist, New Balance