posted by Chris Barber
Tweet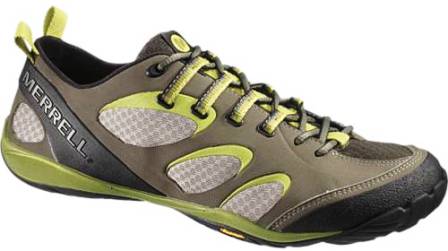 This past year I went to Outdoor Retailer and got a sneak peek at Merrell's new minimalist trail running collection from one of their representatives.  If you like what you read here about the True Glove then you may want to check out what I found out about the other new minimalist trail running shoes in Merrell's collection:  Trail Glove and Tough Glove for Men; and Pace Glove, Power Glove, and Pure Glove for Women.  Find which one best fits you your running style…like a glove!
The Merrell Barefoot collection is made to allow minimalist runners' feet to follow their natural instincts.  They are uniquely designed to engage the feet efficiently, avoid injury, and strengthen your body's core.  The collection is the best minimalist trail running shoes I've seen and the True Glove is my favorite shoe in the collection.  The True Glove upper is made of a sheepskin leather.  Sheepskin makes true glove feel so much better, and safer!  The sheepskin is the reason that the true glove is the lightest in Merrell's minimalist trail running collection.  Even though it is light, the upper wraps well around the foot because of Merrell's Omni-Fit lacing system, pretty much the reason these shoes can be called gloves.  The True Glove supposedly also has a footbed treated with Merrell's antimicrobial solution which I was told resists odor but that's hard to believe in a minimalist trail running shoe; one that usually is run in without socks through water, mud, and everything else.
The midsole and outsole has a 4 mm cushioning in it, just enough for a semi-soft landing while still allowing for the minimalist trail running feel.  The part I like most about the sole is the 1 mm forefoot shock absorption plant which helps maintain forefoot flexibility and protects the foot by distributing pressure.  The True Glove is the first minimalist trail running shoe I've seen that has taken into account that minimalist runners run on their toes.  In fact, Merrell also told me that they would be providing instructions on minimalist running techniques with every pair they sell of their minimalist trail running shoe collection; like a manual for a car.  I think this is a great idea because I've heard of too many injured runners throwing on minimalist running shoes without changing their technique and further injuring themselves.  The sole is made of a rubber compound TC-1.  What does that mean exactly?  I don't know, but I trust any sole made by Vibram.
Check them out in February of 2011.
Tags: Merrell