posted by Chris Barber
Tweet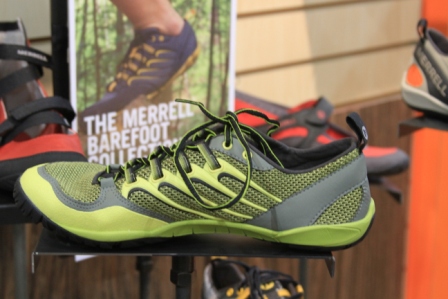 This past year I went to Outdoor Retailer and got a sneak peek at Merrell's new minimalist trail running shoe collection.  Pictured to the left is the Men's Trail Glove Minimalist Trail Running Shoe which is scheduled to hit stores in February of 2011.  Get ready!  If you like what you read here about the Trail Glove then you may want to check out what I found out about the other new minimalist trail running shoes in Merrell's collection:  Tough Glove and True Glove for Men; and Pace Glove, Power Glove, and Pure Glove for Women.  Find which one best fits you your running style…like a glove!
The Merrell representative told me that the reason Merrell got into the minimalist trail shoe movement is because their company's core values are to bring customers to find their outside freedom and the Trail Glove lets runners' feet follow their natural instincts to that freedom.  How philosophical.  Merrell teamed up with Vibram to fuse together their knowledge of barefoot running with Merrell's knowledge of outdoor footwear.  The biggest difference between Merrell's minimalist trail running shoes and others on the market is the wide toe and heel boxes.  The wide toe and heel boxes are to encourage your foot to find it's natural stride by giving it plenty of room.  Stop suffocating your foot and give it the room to learn on its own.  Merrell's Trail Glove is its medium weight minimalist trail shoe in the collection; combining an ultra-lightweight feel with all the protection needed from rocks and roots.
The upper is made of a treated synthetic leather and upper mesh.  This allows for a tight feel which fits snug against the upper part of your foot, according to Ace Ventura, like a glove!  The snug fit in the uppers is important because your foot tends to slide around in the excess room built in the lower for freedom of movement.  The Trail Glove also uses Merrell's Omni-Fit lacing system, secured with welded TPU, to help tighten the upper more and give the glove feel.  There is a hard toe bumper that is fused on the front to provide protection against rocks and roots on the trail.  On the back Merrell put synthetic rubber fused on, this is more for stability in your heel than protection from the trail.  The Merrell representative also told me that they have a microfiber footbed treated with an antimicrobial solution that resists odor, but we'll have to see about that.  I've never met a minimalist trail running shoe that didn't stink….or maybe that's just me…
The midsole and outsole has a 4 mm cushioning in it, just enough for a semi-soft landing while still allowing for the minimalist trail running feel.  The part I like most about the sole is the 1 mm forefoot shock absorption plant which helps maintain forefoot flexibility and protects the foot by distributing pressure.  The Trail Glove is the first minimalist trail running shoe I've seen that has taken into account that minimalist runners run on their toes.  In fact, Merrell also told me that they would be providing instructions on minimalist running techniques with every pair they sell of their minimalist trail running shoe collection; like a manual for a car.  I think this is a great idea because I've heard of too many injured runners throwing on minimalist running shoes without changing their technique and further injuring themselves.  The sole is made of a rubber compound TC-1.  What does that mean exactly?  I don't know, but I trust any sole made by Vibram; just like I trust websites on the Internet.
Stay tuned the next couple of days as I review the other new minimalist trail shoes in Merrell's collection.
Tags: Merrell