posted by Chris Barber
Tweet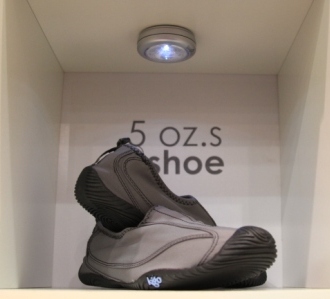 I checked out Kigo Footwear at Outdoor Retailer this past year and love what this new start-up company is doing, developing green, minimalist shoes that are not only functional, but also stylish.  They say, "Kigo footwear is committed to making shoes that are stylish enough for everyday wear, sturdy enough for athletics, and constructed to be good for the Earth and body."  Kigos are good for barefoot (well, minimalist) athletics and everyday wear.  They produce the Kigo CURV for women which can be used for commuting, fitness, or general wear, similar to a Mary Jane style.  No, not the eyes closed, eating Cheetos, and listening to Pink Floyd Mary Jane style.  The Kigo EDGE is for active men and women and has complete foot coverage for a fully protected barefoot stride.  Although they are strong enough for a man, Kigos are really PH balanced for women.  As they should be, the staff at Kigo are all women who know about endurance athletics and being stylish at the same time.
Kigos are constructed of lightweight durable materials with a beathable, stain/water resistant upper.  The outsoles are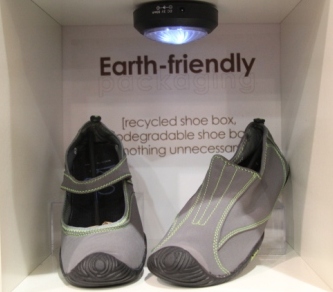 flexible because they are made with a high density rubber which is 1.5 mm thick.  You can bend these shoes in half with just your hands.  Kigos have a higher vamp for increased toe room which gives a better barefoot running experience.  I also like that they have a deeper ankle opening than most shoes which prevents rubbing when running.  Kigos are built around the body health benefits that come from going barefoot or wearing minimalist shoes and allows your foot to move more naturally.  This strengthens the muscles in the foot, promotes better posture, and creates a more effortless stride while running or walking in Kigos.  Not only were Kigos designed for minimalist benefits but also with the idea of having a comfortable shoe that is portable.  The idea for Kigos came when the founder couldn't enjoy a night out with friends because the only shoes she had were ski boots after a day on the mountain.  I wish I had some Kigos about 10 years ago when I donned on ski boots prior to boarding a plane because I couldn't wear running shoes in first class (free upgrade for being in the military).  Someday we'll live in a classless society where non-runners and runners alike are treated equal.  Until then, bring your Kigos!  The shoes are about 4 to 5 ounces and can be easily bent for the easy storage.  They also come with a hookless toe cap and fixed webbing loop for easy pull on and off.  They have orange, green, black, or white styles and MSRP for $69.99 USD.
Currently Kigo is participating in British Airways competition for small businesses.  Click here and vote for Kigo to help this small start-up business!  There are only 2 days left to vote!  The Kigo staff are magnificent people with a positive outlook on barefoot running and staying stylish.  Support small businesses and try some Kigos yourself!
Tags: Outdoor Retailer