posted by admin
Tweet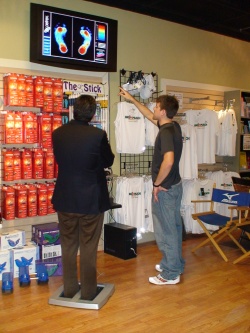 This summer two (!) running stores opened in our little town just outside Atlanta and it's really amazing what these stores offer. Aside from the free showers, group runs, and accessible water for runners at Big Peach Running Co. they also offer a free running shoe fit evaluation that's really incredibly high tech.
The first step to a running shoe fitting is understanding the shape of your foot and Big Peach uses a pressure sensing device that shows where your weight rests on the bottoms of your feet. This tells you whether you have high arches or no arches and whether you tend to favor the ball or heel of your foot when standing comfortably.
The second part of the fit involves running (or walking) on a treadmill while a video camera records your foot strike. After about a minute of running the video is played back in slow motion to understand your natural pronation. Most running shoe professionals will tell you pronation is perhaps the most important factor in choosing a running shoe. As such your foot strike pattern (over pronation, under pronation, or neutral) will dictate the right shoe for you.
Finding the right running shoe is about so much more than style – it's all about comfort and performance. Even if you've been running for years it's a good idea to head down to your local running store for a professional fit – you never know what you'll find out about yourself!