posted by Chris Barber
Tweet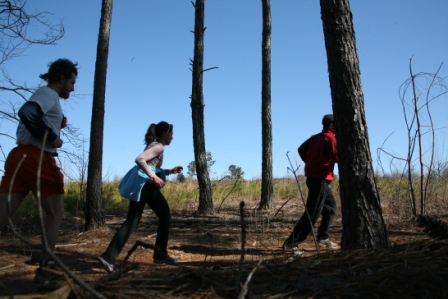 Richard Burgunder recently published a great article about the rise in popularity of Trail Running named, "Trail Running:  Racing Towards the top in Popularity."  In it he states that Trail Running is, "…considered the sixth most popular extreme sport s in the USA, only behind skating, skateboarding, paintball, climbing, and snowboarding."  I'm not sure what type of skating this refers to, I assume roller skating, which I don't consider very extreme.  Skateboarding and snowboarding are both board sports enjoyed by a different type of extreme athlete than the Trail Runner and Mountain Biker types and paintball is more of a game so I don't consider it a sport.  Which leaves Trail Running as the 2nd most popular extreme sport behind rock climbing!  He goes on to say that in 2006 there were 6.7 million regular Trail Runners in the United States and at the current pace Trail Running will soon become the most popular extreme sport in the United States.
That is why we started National Trail Running Day last year with over 5,000 trail runners participating in events across the United States.  Plan an event, register it on the website and mark your calender for August 21st to do some serious Trail Running this year.  When we started National Trail Running Day some avid Trail Runners didn't like the idea, citing the purity of the sport, being alone running on the trails and exploring paths on their own.  While we understand, we at SeriousRunning.com don't agree; we think everyone should trail run, the more the merrier.  There are enough trails out there for all of us!  Share and review your favorite trails on our Trail Running listings and help your fellow Trail Runners get the most out of this awesome extreme sport.  We hope that the rise in popularity will lead to better Trail Running information, new gear to help make Trail Running more enjoyable, and an overall better social experience.
So why has Trail Running become so popular?  Well, first off, recently there has been a Running Boom Across America which we determined was due to the poor economy and translates well into the boom of Trail Running.  Many runners get tired of running the same routes and surfaces of road running and have ventured out to the trails for a new experience.  The transition from road running to trail running is simple, using many of the same techniques as running on roads.  Another reason is that Trail Running is easy to access; all you need is a trail.  While many trails have restrictions on mountain biking or horseback riding, virtually no trails exclude runners from running on them.  Even if trails do have restrictions on running then just walk fast if come across another hiker.
So what are you waiting for?  Get off the road and go Trail Running!