posted by admin
Tweet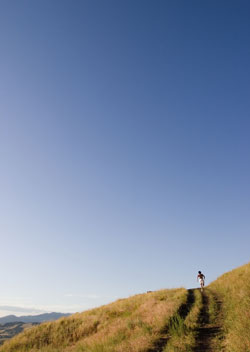 If you're like me you get tired of running the same route day after day. Heck, running interesting routes is the reason I skip the track and the treadmill whenever I can but sometimes it can be difficult to find new places to run. This is especially true if you generally start and end your runs in the same place most days (like your home or office). Here are some ideas for spicing up your home-base running routes:
1. Go for an out and back. If your daily run is 4-miles each day you're really only running a 2-mile radius around your home-base. Try to come up with creative solutions for doing an out and back which can effectively double your radius (and quadruple your running area!). For me this means using public transportation to get back home or coordinating with friends or family to meet me for brunch at the end of my run. Shuttling cars is also an option, though this take a little more effort.
2. Use a map. Sometimes I like to bring up a Google Map of my neighborhood to look for streets I've yet to explore on my daily runs. You can even use a tool like MapMyRun to estimate the distance of a new route so you'll know exactly what you're getting into. Just don't forget to make yourself a cue sheet – it's easy to loose track of where you are on unfamiliar streets!
3. Drive somewhere. I usually save this option for special occasions (like long, leisurely runs) but it's great to get away from the neighborhood and run somewhere new. Consider finding a state park, a scenic neighborhood, or even an urban environment every once in a while for a nice change of pace. You can also search our Places to Run database to find a trail run in your area.
4. Run a race. Many times race courses utilize city streets that are too busy for regular runs but when blocked to traffic make for unique running routes. Road races are great too because you won't need to stop at intersections any more – just run without thinking! You can also use SeriousRunning.com to find local races of various lengths.
5. Run at an unusual time of day. If you normally run in the morning before the sun comes up you'll be amazed at how different your route will look during the day. A late night run will reveal all sorts of activities (perhaps not all good) that you don't normally observe during your daily run. Be safe but also take the chance to see your route in a different light.
Running should never feel like a chore and finding new places and times to run can keep runners from getting bored. No one wants to feel like a hamster on a wheel – go out and explore!