posted by Chris Barber
Tweet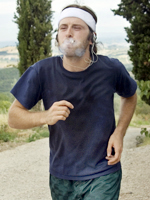 All runners say the same thing, "When I'm tired, I go for a run and feel I have more energy when I'm done."  This doesn't make logical sense.  How can you get more energy by expending energy?  There are two main reasons.
Runner's High: No, not like the runner in the picture above smoking something, it's the euphoric feeling you get from running.  Attaining a Runner's High makes you feel like you have more energy and highly positive feelings.  It is a mental state as a result from physical activity.
Technically, a Runner's High is associated with the release of endorphins in the brain.  Endorphins are any group of opiate proteins with pain-relieving properties that are found naturally in the brain.  The word endorphins comes from two parts: endo- and -orphin; which are short forms of the words endogenous and morphine, intended to mean "a morphine like substance originating from within the body."  Knowing that human cells have receptors for this drug suggests that the body produces its own morphine like substances which it is believed can be attained by running long distances and gives us the feeling of a Runner's High.  It's science.
So even though you have expended a lot of energy running you feel better.  Think of it like consuming alcohol.  Alcohol is a depressant and should make you tired, but it also releases endorphins, giving you the feeling of more energy.  That's why there are laws for how late establishments can serve alcohol, because people would be able to stay there forever consuming it.  Likewise, this is why alcohol is served 24 hours in Las Vegas, NV; it's the endorphin capital of the world!
Runners are Healthy: The other reason runners feel better after exercising is the secondary behavior of typical runners.  Runners typically engage in healthy activities because they know they have to run and need to be fresh for it.  Therefore, they usually get better sleep, eat healthy, and engage in less unhealthy activities which gives them the ability to recover quicker, feeling the benefits of running sooner after the run.  The more you run, the healthier you will be, the better your body is able to recover, giving you are great feeling after every run.  The more you run the more energized you feel after running.  I'll post the regression later so you can really see the relationship.
You can't make running love you, but you can teach your body to love running.  Go ahead and teach your body how to love again.  It's been a while.
Tags: recovery, Runner's High