posted by Chris Barber
Tweet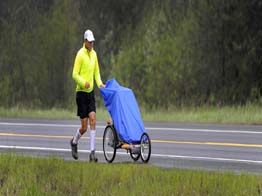 Mike Ehredt remembers when he was in the Army during the 1980s.  Now he's a retired postal worker, going postal and murdering some serious miles!  Mike is running across the United States, from Astoria, Oregon to Maine, 4514 miles in remembrance of those who have lost their lives defending our country.  Project America Run.
Mike isn't taking this task lightly, he knows what it takes to put on the miles.  He has competed in two Eco Challenges (Borneo and Fiji), finished New Zealand's famed Southern Traverse and in 2004 finished Primal Quest in California.  He's not just an adventure racer though, he's a trail and mountain runner too.  In 2006 he completed a 250 mile Trans-Himalayan run in Nepal.  Twice he has finished in the top 150 at Marathon des Sables – a six day race across the Sahara.  In 2008 he became 1 of only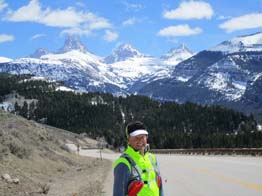 34 people to ever finish the Rocky Mountain Slam which consists of Brighorn, Hardrock, Wasatch, and the Bear 100 mile races.  He's fast too, with a 33:54 10K, a 2:52 marathon, and a 7:24 50 miles.
He runs about 30 miles a day for Project America Run.  He says, "I never wanted this to be a political statement, I just want to honor and remember  them.  It's just out of a sense of honor and duty, to say think you to those who served in Iraq."  He runs solo, soaking in his surroundings and thinking about why he is running.  He places a small American flag with a yellow ribbon around it in the ground every mile he runs.  Handwritten on the ribbon is the name of a fallen soldier to be remembered.  He becomes oblivious to the fact that he is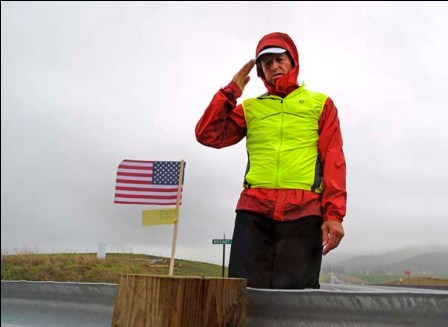 running, heightening his senses and awareness (probably gets a runner's high) as he thinks of the men and women who have given the ultimate sacrifice for our country.
As a combat veteran of the Iraq war myself, I truly appreciate Mike's focus and determination.  We are all support you Mike.  A truly great American.  Consider contributing to his great cause at http://projectamericarun.com/Donate5.htm.  Happy 4th of July!
Tags: Army