posted by admin
Tweet
Ok, so I have a confession to make: I own way too many GPS devices. I've owned at least 8 different models over the past few years and believe it or not, not one of them was meant for the car. It might surprise you to learn that people are using GPS devices for all types of outdoor fitness activities and running is no exception. Right now I'm using the Garmin Forerunner 205 (available from Amazon.com for around $140) to track my daily runs and I have to say it's a huge improvement over the Forerunner 201 (which I reviewed back in 2005).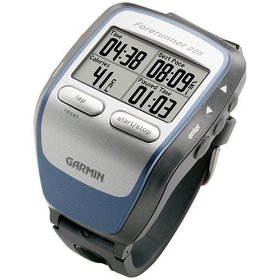 First, the basics: The Garmin Forerunner 205 tracks distance, pace (both current and average), time, and current elevation all in a smallish wrist-mounted package. The Forerunner 205 can also plot your running route on a map and can serve as a virtual training partner telling you when you need to speed up or when you're ahead of the pack. Believe it or not these features are sorta old news for wrist-mounted GPS devices so we'll move on to the interesting stuff.
The Garmin Forerunner 205 uses a built-in rechargeable battery to power the device and it lasts surprisingly long on a single charge (though I doubt it could make it through an entire ultramarathon). I've had my unit for more than 2 years now and it still holds a charge well, so much so that I only charge it once for about every 5-6 runs. The included Garmin Training Center software is decent at keeping your run history and offers more detailed maps and elevation plots than those available on the device itself.
Because the Garmin Forerunner 205 is a GPS device it needs a clear view of the sky to get a satellite signal. Some people report frustrating satellite load times upon turning the unit on but I've found if I turn it on and put it outside the door about 5 minutes before I run it is usually ready to go. The satellite reception issues have been greatly improved since the introduction of the Forerunner 201 so I won't complain too loudly

Despite the improvements Garmin has made to the Forerunner line over the past few years there are still some things about the 205 that bug me. The "watch" form factor is definitely bulky and has an awkward fit on most wrists. The dock that is used to connect the watch to your computer and charger is even bulkier (plus it's a pain to keep track of) and I wonder why Garmin couldn't just put a mini-USB plug onto the watch itself. Perhaps it has something to do with making the unit water and sweat resistant but we're still left with ominous-looking metal probes on the bottom of the watch in constant contact with our wrists. Freaky.
The button configuration on the Forerunner 205 GPS is pretty simple with just 7 buttons but I think Garmin could have gotten away with one or two less. In particular the 'Lap' button seems like a poor choice. I could understand using the lap button if I were running on a track or similarly marked course but why would I need to wear a GPS on the track? Last I checked tracks are either a quarter mile or 400 meters around meaning it's pretty easy to calculate how far and fast I've run on my own. I don't know about you but I use my Forerunner exclusively for runs involving unfamiliar courses and runs of unknown length.
Which brings me to my next point: don't count on using the Garmin Forerunner 205 for navigation. There are no built in street maps or any way to load maps anyway so you're out of luck if you need to find a shortcut home. Sure the Forerunner has some navigation features like saved routes and a return to start function but these are very basic. The Forerunner 205 also lacks an elevation plot screen on the device itself so you'll have to wait until you get home to check out how steep those hills really were (the Forerunner 305 does include this feature).
Finally, the Forerunner 205 does not allow you to link any other devices such as heart rate monitors or foot pods to your GPS unlike the more expensive Forerunner 305 device. I'm not a big heart rate junkie myself but if you want this capability you'll need to upgrade to the 305.
The Garmin Forerunner 205 is a solid, dependable running companion that anyone – from recreational to serious runners – will find useful. Once you get your Forerunner jog on back to SeriousRunning.com where you can use our free running data manager to map and track your runs!