posted by Chris Barber
Tweet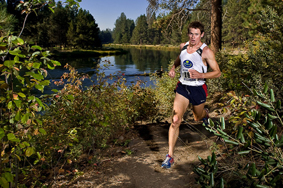 This weekend marks the end of the XTERRA trail run season with the Trail Running National Championship in Bend, Oregon.  This Saturday, September 18th at 9 am the elite trail runners from every part of the nation will meet in Bend, which was named "America's Best Trail Running Town" by Outside Magazine, to see who is the fastest trail runner in the nation is.  The trail race is a "Xduro" half-marathon course that runs through the Deschutes National Forest.
More than 500 trail runners will descend on Bend this weekend including champions from each XTERRA trail race series region who get a free entry to the XTERRA Nationals.  Saturday they'll get a chance to compete against trail runners more their speed (pun intended) like 2-time defending champion Max King.  Don't fret if you're not the fastest in your region, they have a 5K and 10K race for the mortals too.  The race course weaves from downtown Bend to pristine forest trails and then along scenic Deschutes River trail.  It entails a lot of switchbacks on sandy, rocky, and dirt-strewn single and double track.
This should be an awesome event to attend even if you aren't running.  Race prizes range from $1,000 for 1st to $200 for 5th so you know a lot of great trail runners are going to be there.  Good luck trail runners!
Tags: XTERRA