posted by admin
Tweet
What is the toughest organized running event in the United States? We found three events that are among the toughest in the US (and perhaps the world) for your consideration: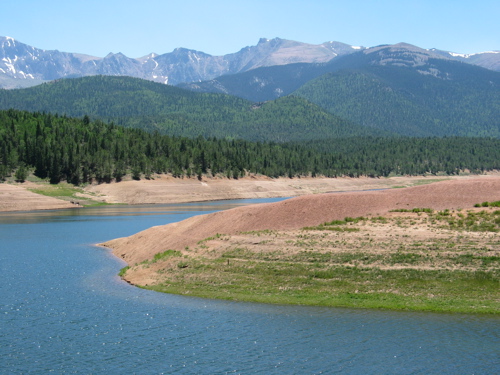 Somewhere on the way to the summit of Pikes Peak near Colorado Springs, CO
1. The Pikes Peak Marathon: Sure the Pikes Peak Marathon is only 26.2 miles like any other marathon but the elevation change is the real killer on this course. Starting at just over 6,000 feet above sea level in Manitou Springs, CO the course follows the Barr Trail to the top of Pikes Peak at 14,115 feet. At the top runners get to turn around and run the course back down – but contrary to popular belief this can be the hardest part of the race. Tired muscles and worn knees can have disastrous consequences on steep descents as many Pikes Peak Marathon finishers can attest. Watch for late afternoon thunderstorms as well! The race is generally run in mid-August.
2.  Hardrock Hundred Endurance Event: The name pretty much says it all – hundred and endurance (oh yeah, and also hard). The Hardrock is another Colorado race and this one starts and ends in Silverton, CO toward the southwest corner of the state. Once again mileage plus elevation combines to produce a killer running event that takes place at an average elevation of more than 11,000 feet above sea level where most normal folks start to breathe hard after simply standing up from a sitting position. All told racers will climb more than 33,000 feet over the course and most runners will need almost 2 days (44 hours) to complete the race. The record for the Hardrock Hundred stands at just under 27 hours and the race is generally run in mid-July each year.
3.  Badwater Ultramarathon: The Badwater Ultramarathon boasts a respectable 13,000 feet of climbing over the course of the race but two other factors really make this race stand out: length and temperature. See, the Badwater Ultramarathon traverses Death Valley, CA – one of the hottest and driest places on the planet and stretches 135 miles from start to finish. The start of the race takes place at the lowest point in the western hemisphere (280 feet BELOW sea level) and finishes halfway up Mt. Whitney, the highest mountain in the contiguous United States. This year Jorge Pacheco finished the race in 23 hours, 20 minutes and some change; the next finisher came in nearly 30 minutes later. The next finisher was more than 3 hours behind these two – sick. You would think this race would be held in the winter months to minimize the heat but nope: the race is generally held in mid-July!
There you go – 3 extreme running events to aspire to in 2009. How far will you go?