posted by Chris Barber
Tweet
We've been hearing a lot about thes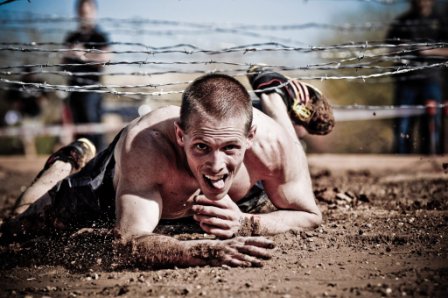 e adventure races lately and our first thought was, "So they are like trail running but with man made obstacles?"  Adventure races seem to be really fun and challenging, which are two of our favorite words, so we thought we'd have our contributing blog writer Brian Ansley, the Great American, check one out for us.  He competed in the Spartan Race Texas this past weekend and here is what he thought:
I pulled into Rocky Hill Ranch about 10:15 this past Saturday morning and followed a path into an open field with what seemed to be hundreds of cars parked for the Spartan Race.  I have done several races in the past, including the Houston Triathlon last September; however, this was going to be my first adventure race.  I was definitely up for the challenge and excited about the course I had heard so much about.  As I was walking to the packet pick up line I heard a huge explosion go off!  Someone said, "A new heat just started!"  I hadn't been in many races with heats, usually everyone starts at the same time.  I knew this race was more about the challenge of finishing rather than competing against other participants.  I love competing against myself, because I always win (insert "bi-winning" joke here).  After I received my packet I made it way closer to the start line so I could get a good look at the action.  There was a man dressed up in full Spartan attire pumping everybody up right before the race began.  I couldn't wait for my heat to start!
Before I knew it, 11:30 was almost here.  I took a last minute drink of water and made my way to the starting line.  The Spartan hype man grabbed his microphone and began pumping up the crowd like Technotronic circa 1989.  Everyone in the crowd would reply to his statements with, AROOO!!!  I was ready.  Boom!  The familiar explosion that starts the race echoed through air.  Not knowing what to expect I began my first adventure race…
As I made my way down the course my first obstacle was a massive marsh area, followed by a flaming pit that I was forced to leap over; better than running straight through I suppose.  The next mile or so was nothing but soaring hills to wear down your legs for the remainder of the race.  After an extensive low crawl under barbwire, two more water crossings, and the completion of an 8 ft wall, I was nearly complete.  As I ran the last set of obstacles I sprinted to the finish line.  As I rounded the corner thinking I was in the clear I spotted a couple of massive men dressed in Spartan attire just like the hype man at the beginning of the race.  The only difference was that these guys weren't holding microphones, they were holding padded sticks!  I tried to put my best moves I learned from American Gladiators but it didn't work.  They both struck me with their sticks at the same time!  However, I can say I proudly crossed the finish line on both feet.  As an avid racer, I found that adventure races challenge me in a way that other events haven't.  The combination of running and obstacles together provide a demanding, yet exciting setting for a race.
The course was easily marked throughout and there was also a sufficient amount of volunteers to guide you if you were not sure.  The obstacles were rather challenging and incredibly fun.  The organization at this race was handled very well, especially given the amount of participants.  I can honestly say I crossed the finish line with a smile on my face.  Two thumbs up for the Spartan Race!  I can definitely see more adventure races in my future.  AROOO!!!
Tags: adventure race