posted by Chris Barber
Tweet
California has done it again.  They're setting trends.  About two weeks ago California struck down the state's ban on same-sex marriages saying that, like race or gender, "does not constitute legitimate basis on which to deny or withhold legal rights."  A trend that other states are sure to follow.  A friend of mine this weekend said she is finally getting married after 7 years of co-habitation in her opposite-sex relationship.  She had not gotten married because she did not want to support an institution that did not allow same-sex couples the same rights as opposite-sex couples.  Looks like she can't use that excuse anymore.  Now everyone has the right to monogamy, shared financial burdens, and having to share a bathroom!  Finally, every person is treated equally!  However, not all races are equal, that's why I want to tell you about the awesome San Francisco FrontRunners 30th Annual Pride Run.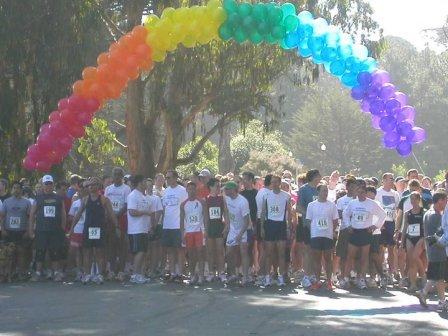 The 30th Annual Pride Run will be held on Saturday June 27th at 9am at the Golden Gate Polo Field South Entrance.  There is a race distance for every type of runner with a 5K walk, 5K run, and a 10K run.  The race winds around the polo fields in this beautiful San Fransisco park.  Awards will be handed out to the top female and male finishers in the 5K and 10K.  Also, awards will be given to the top finishers in each age division starting at >20, 20-29, 30-39, 40-49, 50-59, 60-69, and 70+.  The awards ceremony is conducted after the race at the complimentary BBQ.  What a great way to end a race and enjoy your fellow runners over some cooked meats and sides!  But don't just enjoy getting to know the other runners at the post-race festivities, plan to attend the pre-race social for $5 in advance and $10 at the door with light refreshments, drinks, and fun.  Hanging out with other runners is always fun!  That's why you're here isn't it?
This years beneficiary of the Pride Run is the Gay-Straight Alliance.  The gsanetwork is a youth leadership organization that connects school-based Gay-Straight Alliances (GSAs) to each other and community resources.  Through peer support, leadership development, and training, GSA Network supports young people in starting, strengthening, and sustaining GSA's and builds the capacity for them to create safe environments in schools to learn about homophobia and other oppressions, educate the community about sexual orientation issues, fight discrimination, harassment, and violence in schools.  Run the 30th Annual Pride Run this year and support this very important organization.
Go ahead and register for this awesome race supporting a great cause!  Race prices are steady from now until June 17th.  Online registration will be closed on June 24th at 8:00 am.  If you don't trust the Internet then print out a paper registration and send it by regular mail.  Or you can register on race day from 7:30-8:30.  Options are always good.  Make the right choice and run the San Francisco FrontRunners 30th Annual Pride Run!