posted by mudhunny
Tweet
The Chicago marathon will be held this Sunday, October 12, 2008.  Anxiety and inspiration is in the air. This year extra safety measures will be taken to prevent a repeat of last year's events.  In 2007 the 90-degree heat and water shortages forced race cancellation; many people suffered from heat illness and one runner with a heart condition died.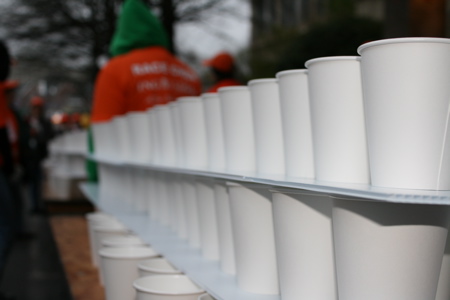 On Sunday Chicago temperatures are expected to be in the mid to upper 70s.  There will be 20 total aid stations plus a new Event Alert System intended to warn people of course conditions.  The color-coded communication system displays green (good conditions), yellow (moderate), red (potentially dangerous), or black (extremely dangerous).  Because of the warm temperatures forecasted, currently a yellow/moderate status is in effect indicating less than ideal running conditions.  The Chicago marathon website offers plenty of tips for running in these conditions.
Chicago has always been known to be a fast marathon course, with four world records being set there since the start of the race in 1977.  In 1999, the men's marathon world record time of 2:05:42 was set by Khalid Khannouchi of Morrocco and in 2002, UK's Paula Radcliffe set a women's record time of 2:17:18.  In the wake of Ethiopia's Haile Gebrselassie new world record marathon time of 2:03:59 set only two weeks ago in Berlin, marathoners are sure to be inspired this weekend in Chicago.
Good luck to all the Chicago marathoners this weekend.  Have a safe run and come back to tell us about it!