posted by Chris Barber
Tweet
I normally don't do race recaps like a lot of other running blogs do because I think it's boring.  I'd rather use this blog for news and information about running with a mild amount of entertainment, but you're in luck, this race recap is about me, so it's going to be straight entertainment.   I'm so interesting.  I have a website.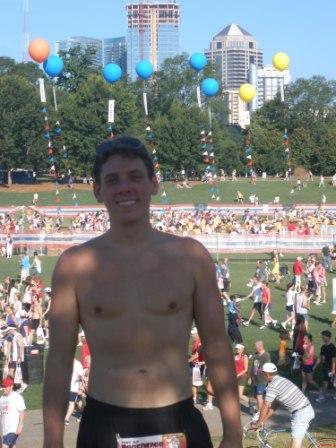 You didn't know?  Shirtless running is so hot right now.  At any rate, I have run the Peachtree Road Race about 8 times.  As you may know, about two months ago I developed Patellar Tendonitis, or Jumper's Knee.  Since then I haven't been 100%, only running about 4 days a week and have not been able to run more than 5.5 miles without stopping because of the pain.  Prior to my injury I had set a goal to run the Peachtree Road Race in under 36 minutes but with my lack of training I decided to push that goal back to a race finish under 40 minutes, but would also be fine with under 42 to remain in the sub-seeded group for next year.
I started off the morning early at 5:15.  I showered because I didn't want to have bed-head in the race photos.  I ate 3 bags of oatmeal for my pre-race breakfast.  I went and parked my car near the finish line, about a mile from my house, and then walked across the park about 1.5 miles to the closest subway.  Once I got to the start line I drank some water, waited 20 minutes to use the restroom, and ate a powerbar and some jelly beans.  All very interesting things huh?  I got to my sub-seeded corral which had plenty of room with racers sitting on the ground and stretching.  Standing would take some energy out of me so I sat down and started to do some stretching.  As I moved my legs in different positions I rubbed something from the bottom of my shoe on to the back of my leg.  It looked like dirt but didn't have the same consistency.  I smelled it and realized I just rubbed dog poop all over my legs.  I tried to rub it out but that just made my hands smell of dog poop too.  Great.  I couldn't really do anything about it so close to race time so I stood up and waited to start the race.  At five minutes prior to the start everyone was lined up close together near the start line and waiting for the gun.  I looked down to see if my shoes were tied, my IT bands were tight, and my race chip was secured and saw a puddle moving toward my foot.  I turned around to find the source of the liquid and saw it coming out of the guy behind me shorts.  I thought, 'He must have had a water bottle burst in his pants pocket or something.'  I turned around and looked again and the man awkwardly moved back away from me a couple of steps.  He was urinating in his pants alright.  I thought to myself, 'Unless you are going to win this race, it's not that serious man.'  With no other options, I adjusted out of the yellow stream and waited for the start of the race with my legs covered in feces and my shoes covered in urine.  I was ready to run this race!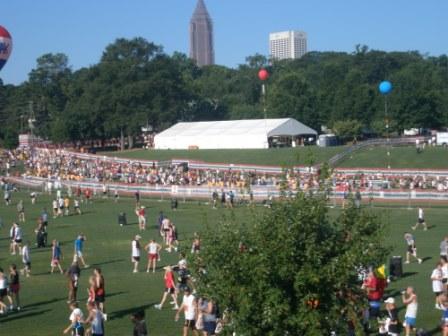 I ran the first 3 miles in a sub 6:00 pace.  I was on track to break 36, but I knew that the first 3 miles were down hill and usually pretty quick.  I even told myself to slow down a bit at about 2.4 miles.  I never tell myself to slow down.  The day prior I had done a ground recon of the course, so I knew what to expect as far as hills.  I figured if I could hold on and do the next 3 miles at a 7:00 minute mile pace I would still break 40.  But that didn't happen.  I pushed myself hard up the hills, put everything out of my mind other than finishing this race strong.  I was breathing harder than everyone else around me at the beginning of the race but still keeping pace.  In the second half I was passing people, charging up the hills.  I didn't look at my Garmin 205 for the last 2 miles of the race.  I wanted to push myself, knowing just a general idea of the distance that was left.  I hadn't been training and was running a mental race.  I ran a 38:25.  Well under my 40 minute goal.  I got 330th overall out of 50,000 so I'm still in the top 1% of all runners that I race against.  That is an overall goal that I strive to maintain.  When I get older or become a female I'll adjust that standard.
I know that it was a mental race and not a physical race because my legs were very sore the next day and I usually never get sore.  This just goes to show you, running is 93% mental…or somewhere around there.