posted by Chris Barber
Tweet
What is a better way to celebrate National Trail Running Day than running an ultra race?  Running the Lean Horse Hundred and Half Hundred Ultra Race.  The Lean Horse Ultra is set for August 22nd at 6 am, the dawn of National Trail Running Day.  This event is out of Hot Springs, South Dakota, a beautiful region for outdoor activities such as trail running and mountain biking.  South Dakota doesn't get the press it deserves for being a premier, scenic area to trail run…until now.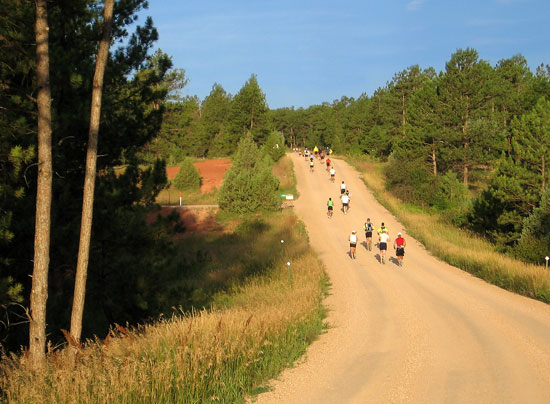 The 100 mile and 50 mile course starts right outside race headquarters at Hot Springs Freedom Trail bike path.  The race will take you through downtown Hot Springs, paralleling the Platte river on the North side of town; otherwise know as the "cool" side of town.  The course travels over many different surfaces with a bit of paved roads, a couple of blocks in a residential neighborhood, open meadows, trail, and hilly country roads to keep your body guessing and keep your attention on this long, grueling endeavor:   finishing an Ultra marathon.  Total climbing for the 50 mile distance is 3967 feet and 7216 feet of climbing for the full 100 mile race.  Check out the course maps and decide if you are ready to take on this challenge.  Good decision.  I knew you were ready.  I'm surprised you didn't already have plans for National Trail Running Day.
Make plans for a weekend trip and stay a while in beautiful Hot Springs, South Dakota.  Check out Wind Cave National Park, one of the world's longest and most complex caves.  Maybe cave running could be fun.  Or you can get your warm up run on the 28,295 acres of mixed-grass prairie, ponderosa pine forest.  Look out for the amazing wildlife of bison, elk, pronghorn, mule deer, coyotes, and prairie dogs.  If you would rather watch someone else do the running, then check out the Black Hills wild horse sanctuary.  See wild mares and their colorful, frolicking foals enjoying their day.  This tour is so beautiful that even wild horses couldn't drag you away…from watching wild horses.
Watching wild horses is fun, but you are a Lean Horse, ready to run a great ultra marathon race.  How do you keep a Lean Horse moving?  With plenty of subsistence.  There will be pretzels, chips/crackers, sandwiches, chicken soup, peanut butter and crackers, cooked salt potatoes (a favorite), oranges, bananas, candy, brownies, cookies, hammer gel, and instant oatmeal.  In the trough for Lean Horse runners will be water, powerade, coffee, defizzed coke/pepsi, tea, lemonade, and instant hot chocalate.  What else could you need to help you finish this awesomely challenging race?  If for some reason the challenge gets the better of you, there will be 10 aid stations along the race course.  Now you don't have any excuse for accepting the Lean Horse Hundred and Half Hundred Ultra marathon challenge!  Just finishing not enough of a challenge for you?  Then strive to run the course in under 20 or 24 hours and get your name on the Lean Horse Hall of Fame.  It's good to be famous.
Register online or via mail, famous Rock Star.  Stop thinking about it, do it.  You only have until August 15th to register!  Don't be one of those irresponsible Rock Stars.  That was so 1980.