posted by Chris Barber
Tweet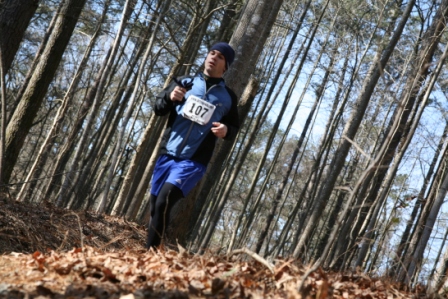 I've been running in the Dirty Spokes Productions trail races for the past two years and they are some of the best trail races I have ever run.  They always offer distances that any type of runner can participate in, have a competitive field of avid trail runners, and are well run trail running races.  The Georgia State Championship Trail Running Race is coming soon so start training.
From the Race Director Tim:
Coming soon is the Georgia State 8.5 Mile Championship Trail Running Race, Tribble Mill Park, Gwinnett Co., October 23rd, 2010! That´s right the official state championship trail running race brought to you by Dirty Spokes Productions!  Here´s your opportunity to find out who´s the best trail runner in the state of Georgia!  We will crown the overall male and female wi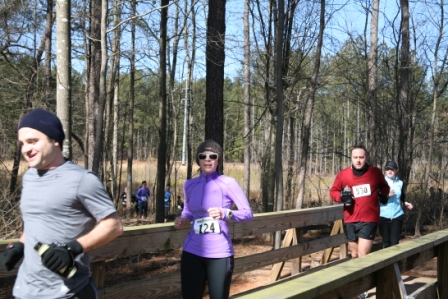 nners on October 23, 2010 – CASH PAYOUT!  We will be giving away $300 1st Place Male, $200 2nd Place Male, $100 3rd Place Male / $300 1st Place Female, $200 2nd Place Female, $100 3rd Place Female that is the top 3 overall finishers (as well as hand out medals to the top 3 finishers in each age category)! We will also be giving away Sweet Custom Embroidered Running           Jackets (Georgia State Champions – Custom Embroidered) to our Overall top 3 male ⁄ 3 female finishers.  Each runner who finishes out top 3 in their category will receive a "free entry" to the XTERRA Georgia Victoria Bryant 10K Trail Running Race, December 4th, 2010 (you must mail these in and we must receive these by November 15th, 2010 to take advantage of the free entry).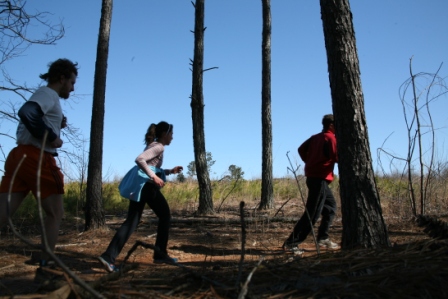 What are the qualifications to enter the Georgia State Championship Trail Running Race? None. You don´t have to have run any previous races or have to enter any times to us from any previous races to qualify (you don't have to be a member of any club or group either). Do you need to be from the state of Georgia to qualify? No, if you live in another state but think you can hold the title in Georgia, not a problem. If you want to compete – come on out!
Each participant will receive a "Dri-Fit" shirt as well as our custom "Georgia State Championship Trail Race Socks" $35.00 value – race registration $40.00 (no guarantee of a dri-fit shirt or custom socks with late or race day registration)!
We will also have FREE PIZZA after the race for all participants from Cooleys Pizza!
Directions To The Park:
Tribble Mill Park
2125 Tribble Mill Pkwy
Lawrenceville – GA, 30045
ENTRY FEES (We will be taking race day registrations):
* Again, NO GUARANTEE of a Green Layer Dri Fit Shirt or Custom Socks with late or race day registration (we will not mail shirts or medals, you must pick them up).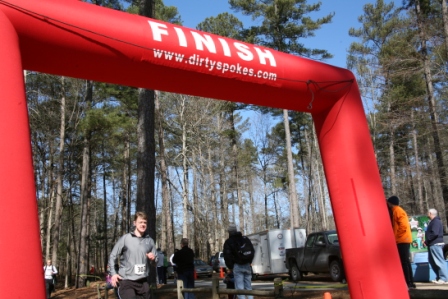 TIMING:
We will be doing chip timing RFID Timing System (each participant will receive their own timing chip at the registration table 10/23/10 – your timing chip will correspond to your name and bib number.  At the end of the race we will collect your timing chip back (after you cross the finish line).  If for some reason you are unable to finish the event we will still need to collect your timing chip (you will be billed $35.00 for any chip lost or not returned).  Once you have started the race you may not change categories (distances).
PACKET PICKUP:
Packet pickup will be the morning of the race starting at 7:00 a.m. to 8:00 a.m. Race starts at 8:30 a.m SHARP!
Race Course:
This 8.5 mile race course has a little bit of everything! This is one of the toughest trail running courses we have put together!  The race will start in an open field and quickly narrow down to a double track trail… the first .9 of a mile is back and forth uphill (double track) once you get to the top of the hill you will cross a gravel road and quickly start back down (still double track).  Then you start to hit the single track sections and once you get there you will find this course / terrain is made up of a little bit of everything!  The terrain is rolling hills, steep hills, single track, double track, granite rock outcroppings along with technical sections (tight and twisty along with rocks and roots) along with two shallow creek crossings.  We are calling it the Georgia State Championship Trail Running Race for a reason (bring your "A Game")!  We will have the GPS Data listed on our site as soon as it is finalized…
So check it out, maybe win some money and run with the elite trail runners of Georgia!
Note:  Pictures above are not from this particular trail race but another Dirty Spokes Productions trail race.