posted by Chris Barber
Tweet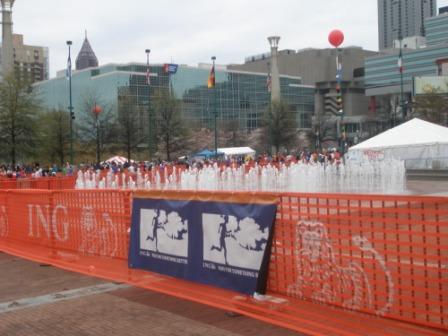 I ran the 2009 Geogia ING Half Marathon this morning.  I just didn't have the time right now to train for a full properly so I thought I would race a half for the first time and see how I did.  It felt really good.  I had been working on my speed and I think it paid off.  I think I ran under 1:25 (update:  1:24:02) which was my goal.  It's nice to achieve your goals, be goal oriented.  What other orientational options do you have anyways?
I really liked the race course.  The Georgia ING half and full marathons started in Centennial Olympic Park which has a lot of historical significance.  It was the hub for activities during the 1996 Olympic Games and was the site of the tragic Centennial Olympic Park Bombing.  Centennial Olympic Park is situated in the center of downtown Atlanta near a lot of great hotels, restaurants, and tourist attractions.  This makes the Georgia Marathon a great destination race if you are looking for a cool destination to visit and also run a marathon.
The course continues from Centennial Olympic Park through parts of downtown and into an old Historic areas of Atlanta.  I liked the course because it was the perfect mix of landmarks, parks, downtown areas, and old historic homes.  It really showed the different faces of Atlanta and kept your attention while running.  This did make for a bit of a windy course but it was well worth it.  Who wants to travel in a straight shot anyways…other than maybe astronauts.
The start and finish area needs work; a good bit of work.  First off, when my group got there we could not find the bag drop and decided to just "follow the crowd" but once inside the park, the crowd was going every direction!  This is indicative of the whole layout and logistics of the race area.  Once we found the "bag drop" (which was merely putting your bag under a tent) we went to the bathrooms before the race.  The line took 20 minutes and there were only about 20 stalls.  I'm sure there were other bathrooms in other places but I did not see them.  I did see a line for the bathroom at a coffee shop about 40 people deep.  I missed my start group and had to jump the fence to start with a later group; however, other than being with slower paced runners, it didn't matter because there was no stagger at the start.  Race corrals are based on the time you submit, which is not verified.  This creates a bulk or runners of varying abilities all starting the race at the same time.  If the race does not want to verify times then there should be some sort of stagger between corrals.  A mere thirty seconds makes a big difference for runners trying to dodge in and out of runners.  I do admit, I did jump into a slower group than mine, but I heard this was a problem for other runners too.  People like to complain, I just listen.
The finish line is at Centennial Olympic Park as well.  It is difficult to see exactly how far the finish line is because it is around a corner and behind a large building.  I saw a "one mile left" marker but didn't know when I needed to give my 800 meters left kick.  I was already around the corner with about 100m to the finish when I saw the actual line.
The layout in the park after the race is not user friendly either.  I think they need to hire a race layout engineer from Georgia Tech next year to figure this whole thing out.  Apparently this has been a reoccurring problem for the race.  Runners are corralled around and fed out near the bag drop area which was convenient.  There was a band with a stage to the right of the finish line but I didn't see anyone near it, most likely because there were barely any race spectators on that side of the course.  It was extremely difficult to get to.  The other side of the course had a VERY large area of the park gated off for reasons unknown to me.  Possibly the city did not allow them to have people walking on this portion of the park.  It made for about a half mile walk from where runners were corralled to where they needed to be if they wanted to watch other runners finish.  I feel like they should have left this area completely open to allow runners to hang out and enjoy themselves.  I saw a lot of groups of people talking and laughing after the race but I didn't see anyone staying around.  The weather was fine, there just wasn't any open area that invited runners to stick around.  As soon as our group found each other we left immediately for a mile walk home.  Thanks my pick-up/drop-off guy.
Overall, if you want an excuse to visit Atlanta or Georgia then this is a good race to run based on its proximity to entertainment and the route it takes on historic parts of Atlanta.  If you are looking for a well organized marathon to travel to maybe you could whisk yourself away to a magical place called Delaware.  Hi.  I'm in Delaware.
Tags: Georgia, half-marathon