posted by Chris Barber
Tweet
This is an entry from my friend Sean who owns RunBum.com.  He calls himself Run Bum because that's what he does.  He travels the world, bumming lodging, food, and race entries in exotic locales.  His latest expedition took him to exotic Destin Beach, Florida to run the Destin 50 Beach Ultra.  Here's what he had to say: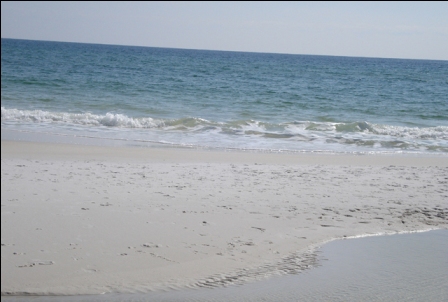 As a runner who loves to run as many races as I can and who loves adventure and new challenges, I stood under the full moon that reflected across the water onto the beach.  It was just moments before the Destin Beach 50 Mile Ultra Marathon and I was about to encounter a race like no other I had run before, 50 miles of sand.  The race had caught my eye months ago.  It sounded like hell, and it sounded like something I wanted to be a part of.  That's what being a Run Bum is all about, I find delight in the unknown.  Where my comfort zone ends is where I have found the most joy in my life.
My game plan for this race was to run a smart race and really save myself for the marathon I was going to run the next day.  I also put on some neoprene socks, no telling what running in the sand for 50 miles would do.  I also knew that I wanted to run close to the water where the sand was the hardest.  Another fear was the extreme slant of the beach.  The beach we were running on has about 50 feet of soft sand and then hits a big slope down to the waters edge for any where from 2-8 feet depending on the tide.
It was 5 am when the race started.  Surrounded by darkness that was illuminated by the moon, I started running.  I started my easy jog and then walk from the get go.  I knew I wasn't in shape to run 50 miles non stop that day.  I didn't have to use my headlamp because the moon was so bright.  About 20 people took off in front of me and another 20 behind me.  I was amazed by the sheer beautify of the race.  Here's what my camera captured that morning:
I was surrounded by ocean and sand; massive dunes lined the shore, not houses. I would run toward scattering crabs, shine my light toward movement just a couple of feet ahead to see a group of birds scatter out of the ocean. It was like an explosion of nature. I was running directly at the sunrise, but the moon was still shinning bright enough to give you a sunburn. It was almost like they were competing, but we all knew the sun would eventually win this battle.  The air was a perfect temperature, 60 degrees with a light breeze. The air had a hint of ocean saltiness. It was the prefect moment to be running…Read Part 2!
Tags: beach, ultramarathon