posted by Chris Barber
Tweet
This is a continued race recap Sean Run Bum Blanton's Destin Beach 50k and 50 mile ultramarthon:
Check our Part 1 if you missed it.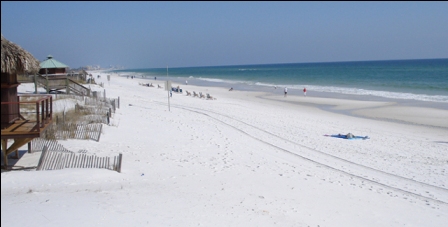 When the sun was rising and pushing me forward I was at mile 10.  I was in about 13th or 14th place and all of a sudden a guy comes rocking past me going the other way.  I said, "Hey, great job man, keep it up!"  He had his head down and was in the zone.  Too far in the zone to respond.  As I grew closer to the turn around I saw more runners coming the other way.  My smile elicited high fives.  The bond you share with people on ultramarthons is almost as epic as the race itself.  It was like we were all in the same Platoon, fighting the same way, enduring the same hardships together.
At the turn around I could see the the high rise hotels at Destin Beach way away.  They looked close but I knew from earlier in the race, objects appear closer than they really are!  I thought it must be 15 or 20 miles away.  Then I thought for a second, no, it was exactly 25 miles away!  The exact distance I still had to run!  The sight made my stomach sink.  Like opening the mail box expecting to see your new iPod but instead you see a jury duty summons.
I was running the same 15 miles now I had just covered; however, everything looked different because it was daylight.  Running through Grayton Beach I encountered what appeared to be "THE RED TIDE."  Thank god I thought.  Being the terrible fisherman that I am, the fish would to flock to me and boom, free sushi!  Well, not so much.  It was just where the swamp water cut its path through the dunes and sand as it makes its escape to the ocean.  Brackish water its called.  The mix of fresh and salt water.  See, you learn something everyday.  Frankly though, it looked like blood.  Like some one had stabbed the earth and she was bleeding.  There were about 5 of these along the course.  I saw other runners tip toeing and trying to not get their feet wet.  I pushed right through them, not breaking stride; not only was I too tired to expend energy running around them, but my neoprene socks were working like a charm!
As I was chowing down on some Chia Chargers around mile 25, a guy passed me running with his dog.  No way!  Well, I guess the dog does have 4 legs to run on.  It didn't matter though, I went from walk to Chuck Norris speed in the blink of an eye.  That's right, faster than you can say delta force!  I paced off this guy for about 2 miles before he turned around.  I guess he wasn't part of the race…
Less than a mile away from the resort I could see the tents at the start/finish.  I hurdled a dead jellyfish and downed the last of my water.  I was in 5th place.  I had a huge smile on my face and said to the race director, "Man, this is a great race.  I love it!"  He laughed and said tell me that again in 20 miles.  I laughed and got a nice picture taken.  I took off but soon realized I had forgotten my drop bag of goodies.  Oops!  I lost about 2 minutes going back to get it.  But worse yet, I forgot to put on my sunblock!  If you've ever seen me before you know that I'm part albino, part Irish.
I took off screaming and running with new confidence.  I had finished 30 miles and I hadn't even started to tap the tank.  People along the beach just looked on most likely wondering, "What the hell is this pale weirdo doing?  Oh, he must be drunk.  Oh well.  Honey, shield the kids' eyes."  The first 30 miles were secluded beaches, the last 20 miles I was face to face with people enjoying the beach.  If I wasn't a run bum, I'd be a beach bum.  The next 8 miles would be spent running with some good buddies I met, the couple from Vermont, Serena Wilcox and Patrick, I believe….Read Part 3.
Tags: beach, ultramarathon