posted by Chris Barber
Tweet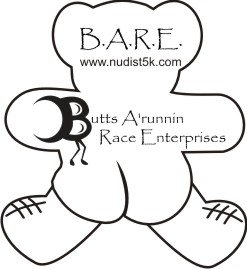 I thought this was a really cool race that is has a bit of an unusual twist.  It's a duathalon, but it's nude.  Honestly, I don't have an affliction toward nude races but it is intriguing.  Come on, riding a bike nude?  That's crazy.  I'm talking about a mountain bike too, not some fat seated beach cruiser.  The Bare Hare Duathlon North is at the Sunny Rest Resort in Palmerton, PA on June 20th and is hosted by Butts A' Running Bare Race Management.  For more information contact Sue Butts or Gary Butts.  I'm serious.  That's their legal names.  The race consists of a 1.5 mile run on paved roads, a 9 or 4.5 mile mountain bike ride depending on your experience level (although it is a nude race you still have to wear your bike helmet), and then a 5K Trail Run to finish.  If this is too extreme for you to do the duathalon then there is a 1.5 mile fun walk on paved roads as well.  Do the Du…you.
The beginning run winds through the mostly paved roads of Sunny Rest Resort with a challenge towards the end, a 100 yard uphill run on paved surfaces.  It won't be tough for you though.  Then you are on the bike.  The mountain bike trail is 2 loops on wide groomed paths of hard pack soil, rocks, and exposed roots along with streams and mud.  There are some climbs and decents that will be marked.  The last leg of the race, the trail run is a single loop on trails with the same terrain as the mountain bike leg.  Once done you have completed the "Du-ing,"  the only clothing-optional duathlon ever in the world!  Now that's an accomplishment.
Make this a destination race.  Sunny Rest Resort and Campground has more than 100 camping & RV sites.  Tenting sites are also fit for electric.  If you are not into roughing it (I don't blame you, could be pretty rough being naked and all) then they have over 20 motel rooms available.  There are over 190 acres for you to enjoy the trails and nature while being very natural yourself.
Race registration is $40 for individuals and $70 for teams if done by June 12th.  After that the prices increase by $10.  Registration to walk is $20.  You can register online at sportsoften.com or you can download the application and send it in.  Go ahead and register and challenge your naked self.  Who needs all those fancy running clothes anyways.  Not me.
Tags: naked running