posted by Chris Barber
Tweet

After the successful inaugural run last year, XTERRA Colorado series is back again, starting on October 9th at Cheyenne Mountain State Park.  Cheyenne state park is Colorado's newest state park nestled in the mountains overlooking Colorado Springs in the countryside that inspired the song, "America the Beautiful."  The event will feature a marathon, half marathon, and 5K trail race distance.  The marathon is two loops of the half marathon course so make sure you bring your mental toughness to run past the half marathon finish line for another lap.  XTERRA Colorado labels this event as both challenging and rewarding.  The event sold out last year and is on pace to hit the 300 participant limit again, so register soon for the epic race.  Online registration closes on October 6th, after that prices increase $10 for race day entries.  The marathon entry is currently $65, half-marathon $45, and the 5K is $25.  All participants get a technical race t-shirt, finisher's medal, food to replenish, entry into swag raffle, and the swag gained from knowing they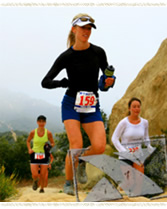 completed the XTERRA Colorado Marathon of Trail Races!
Race director Victoria Seahorn started the XTERRA Colorado race series in honor of her late best friend, Lindsey Gabe, who passed away from breast cancer in 2005 at age 60.  Victoria and Lindsey ran many races and began their training together.  Victoria has run 29 marathons and countless half and short distance races.  At Lindsey's wake Victoria stood up and announced she was going to put on a race, to honor Lindsey.  That is when Victoria set out to organize the inaugural ING Atlanta Marathon which was the 2nd largest inaugural marathon and half marathon combo of all time, with 15,000 participants toeing the start line!  Now Victoria has set out to honor her best friend again by hosting a trail race where Gabe passed away, in Colorado Springs, with the 2nd Annual XTERRA Colorado Marathon of Trail Races.  Victoria is a true, genuine, caring person who embodies everything it means to be a runner.
So come out and run this great event, challenge yourself, accomplish your goals, enjoy the scenery, and honor the runners that have run before us with a marathon of a trail race in Colorado Springs.
Tags: XTERRA