Thursday, March 1st, 2012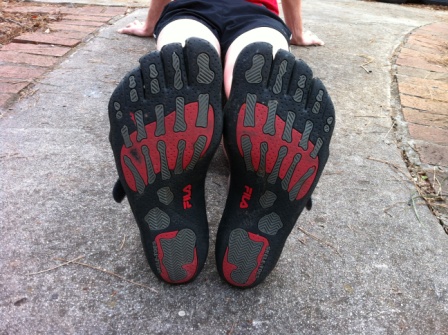 Several months ago I acquired a pair of Skeletoes running shoes from FILA. If you would like to skip all of the details of the review below, I will cut to the chase: I have thoroughly enjoyed using these shoes for running, hiking, walking, playing basketball with my children, skateboarding, and a number of other activities. They have been an excellent minimalist shoe for trail running and cold-weather running, although my preference would be for a thinner and more uniform sole (such as the Soft Star RunAmoc). However, the thicker sole has allowed me to use them for a greater variety of activities.
Description of the FILA Skeletos shoe:
This is a toe shoe, with many similarities to the Vibram FiveFingers. Their distinguishing feature (aside from the cool tread which looks like foot bones) is that they only have four toe pockets instead of five. No, this shoe is not made for a mutant sub-population with only four toes – the fourth toe pocket is designed to accommodate the last two toes of the feet. The intent is to facilitate the process of putting the shoe on the foot. The sole of the shoe is similar to a Five Finger sole, in that it conforms to the contours of the foot, and is quite minimal. The upper is made of a neoprene-like material that expands well and conforms to the foot. A single velcro strap at the top of the foot secures the shoe, with an additional velcro strap at the heal to adjust the overall fit.
About me:
Until a few months ago, I was running between 30 and 60 miles a week (I had to quit running at the end of 2011 while I finished my doctoral degree and searched for a job). Since 2007, I have been a barefoot purist, running without anything on my feet and disliking the way many have used 'barefoot running' as a substitute for 'minimalist running'. This, of course, has made winter running a bit difficult, as I've always been too proud to cover my feet, even when temperatures are sub-freezing (the two exceptions being for December marathons with start temperatures in the 20s). Aside from the two winter marathons that I ran in Land's End slippers (similar to leather-bottom moccasins), I have run one marathon barefoot, as wells as some 5k and 10k races. I also enjoy summer all-comers track meets, and typically compete in the 1500/mile. To keep myself fit for track racing, my weekly running typically incorporates short intervals at the track (400m) and tempo runs. The majority of my running over the past few years has been done in Durham, North Carolina and Atlanta, Georgia, but I have also run barefoot (in a variety of conditions) as I've traveled within the U.S. and abroad.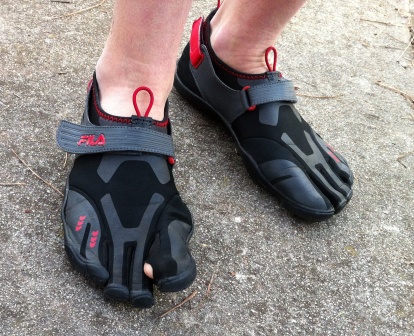 Benefits of the FILA Skeletoes:
1. Foremost, these shoes have enabled me to begin trail running. Although I love to mountain bike, I didn't realize how exhilarating trail-running would be. As I've increased trail running, these shoes have performed excellently.
2. The four-toe design of the shoe greatly facilitates putting them on the foot. Although I have never run in Vibram FiveFingers shoes, I have put them on my feet a number of times, and always had great difficulty (because of the final toe). I've been told by friends who use FiveFingers that this process gets much easier as the shoes break in, but putting the shoes on my feet was never an issue with the FILA Skeletoes. The four-toe design was an excellent concept.
3. The shoes have performed quite well on trails and in wet conditions. The tread didn't cause problems, even when hiking over wet logs.
4. The upper material is dense and is excellent in cold-weather conditions – my feet have always felt quite warm while using the shoes in low temperatures.
5. In my opinion the shoe is pretty cool looking.
Review of FILA Skeletoes:
1. When it comes to running, my preference is for an extremely minimalist sole (such as that of the Soft Star RunAmoc). The sole of the Skeletoes has some structural reinforcement and additional material around the heel, ball and toes. Have said that, they don't have more structure than the Vibram Five Fingers, and are much more minimal that almost every other minimalist running shoe on the market.
2. After several months of use, the upper material has started to separate from the sole at the side of one of my toes (see last photo). This hasn't affect the functionality of the shoe (I have still been able to use them without even noticing the separation), but I am now self-conscious while running in them because I have a toe sticking out of the shoe (yes, I'm a very proud person). This is also indicative that their durability may be sub-standard.
3. While the dense upper is good in cold weather, it isn't good in warm/hot weather. Despite the fact that my feet rarely sweat, I have found them to be hot and sweaty after using the Skeletoes in warm weather.
In conclusion, I have really enjoyed my Skeletoes. While I don't consider them my ideal running shoe (since I prefer an extremely minimal sole for trail running), the additional structure that they have built into the sole has made them ideal for a greater variety of activities than would have been possible with a more minimal sole. Aside from trail running and cold-weather road running, I have used them for running errands, hiking, playing basketball with my kids, and skateboarding. I would highly recommend them for an individual transitioning to minimalist trail running as well as an individual who is looking for a minimalist shoe that would be well suited for a wide range of activities.