Monday, September 16th, 2013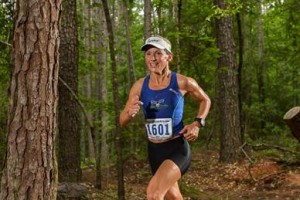 Deanna McCurdy of Peachtree City will be joining 700 other runners in the XTERRA National Championships this weekend. Deanna is running in support of Team Miles for Smiles, a Foundation for Angelman Syndrome Therapeutics, or F.A.S.T. Her youngest daughter is diagnosed with the disease. Those effected are born missing a segment of their 15th chromosome on the maternal side and require life long care.
Deanna placed 1st in the XTERRA Deep South Trail Run 15k (no big deal, right?) that she described as really, "a way to have a date with my husband, we were going to go mountain biking after I ran the race." Sounds like a tough woman. But don't be afraid, Deanna just has perceptive from raising a child affected by Angelman Syndrome. Her running mantra is, "I run because I can. When I get tired I just remember those who can't run and what they would give to have this simple gift I take for granted and I run harder for them. I know they would do the same for me." Deanna wears a blue reminder bracelet and friendship bracelet in support of Foundation of Angelman Syndrome and a friendship bracelet is from her 8 year old daughter.
Deanna says that when their daughter was born it turned their world updside down. The fact that you don't know when "someday is" makes you jump on every opportunity if it presents itself.
What's unique about Deanna's foundation is that a cure doesn't seem in a distance future, it's being tested successfully and a cure could become imminent. 1 out of 15,000 children have the disease but Deanna says that many more may be prevalent in mis-diagnosis as autism or cerebral palsy.
If you want to support Deanna, her race, and the foundation, please visit their site at miles-for-smiles.org.