Thursday, June 9th, 2011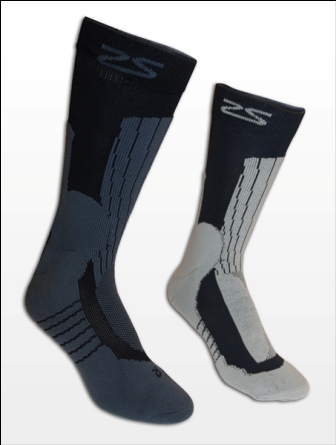 I've never really been into which type of socks I wear trail running but got the opportunity to try the Zensah Trail Running Socks so I went for it.  Man, did I realize how much I was missing by wearing my generic Puma ankle socks from Ross.  These socks actually made my feet feel better after a long run!
At first feel I thought the Zensah trail running socks were too thick.  I was nervous that they would be too warm, leading my feet to sweat more, which would result in more blisters.  I'm personally blister prone and have been waiting for about 20 years and 10,000 miles for my feet to toughen up.  If rucking hundreds of miles in Army boots haven't done it, I don't know what will.  It's just something I live with; but I didn't get any blisters in the Zensah trail running socks!  Zensah says they are, "thermal regulating so your feet don't  get too cold or hot" and I've found that to be true, running in both cold and extremely hot weather.
Starting from the top of the sock, when pulled up it goes to the middle of your shin.  If you want to wear them lower they squish down easily like they were made for 90s wear.  The top has a bit smaller circumference than the rest of the sock and has thicker netting which helps it hold in place.  I didn't have these fall down my leg at all when running!  The black portion just below the top of the sock is the thinnest material and made of fine, cris-crossing thread.  I think this is to increase breathability in the spots where support isn't as important.  The front part of the ankle is a vertically woven pattern which hugs closely to your shins.  The back of the sock from the upper ankle to the heal is the thickest part of the sock.  This portion reminds me a lot of hiking socks and I believe is for increased blister protection.  From the middle of the heel to to top of the forefoot is the same material used at the top of the sock for increased breathability.
The midsole of this sock is what sets it apart from any other sock I've worn.  When holding this sock you can actually see that this portion is smaller than the rest of the sock.  This is to give a tighter fit on your arches.  The bottom is tightly woven and runs horizontal across the bottom of your foot.  The top is made of a mesh type pattern but is very durable.  This is where you feel the difference in the Zensah sock.  Zensah says it is a, "patented knitting technique that creates a support zone around your arch and ankle that adjusts to your foot shape to increase comfort and enhance support while trail running."  Wow, patented knitting technique?  That must be some knitting technique if no one else has come up with it since humans started wearing clothes!  The toe is made of the same thick material as the heal for blister prevention.
Overall I really like these socks for trail running.  If you are looking for some trail running socks you should definitely check them out.  They aren't too hot but are able to protect my legs from sticks and briars.  Wait, I thought it was cool to have scratches from trail running…