Thursday, September 30th, 2010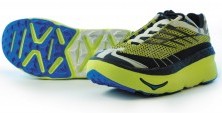 The Hoka One One Trail Running Shoes movement may be moving down the trail next.  From minimalist trail running shoes comes the complete opposite, the Hoka One One.  The Hoka One One was invented by Nicolas Mermoud and Jean Luc Diard of France, who had previously worked at Salomon.  From an adventure race in Sicily was born a love for running over mountains and on trails.  Nicolas and Jean wanted a trail running shoe that they could fly downhills even if they were heel striking (opposite of minimalist again).  They came up with the Hoka One One Trail Running Shoes.
The Hoka One One soles are 2.5 times larger than traditional trail running shoes which is what sets them apart from other trail runners.  Hoka claims the foam gives a 30% softer ride and is able to dissipate 80% of the impact of a heel strike.  Even though the shoes look bulky, they are relatively light, 15% lighter than traditional trail running shoes.  There is a 13 cm rockering profile at the toe which provides a spring in your step when running on flat or uphill terrain.  According to Hoka, the low ramps angle also allows for tremendous confidence running downhill, engaging the gluteus and lower back, as opposed to isolating the quads like traditional downhill trail running.  The bottom of the shoe has 50% more surface area so you run straight over rocks and roots without feeling anything or changing your stride.  Like a mountain bike barreling down a hill rolling over every obstacle in its path rather than avoiding them.  The sole is etched with large lugs, also like mountain bike tires, for the best possible grip.  The Hoka One One was invented so trails runners could run fast over any surface and any terrain.
What do you think?  Anyone ever try these?