Wednesday, May 26th, 2010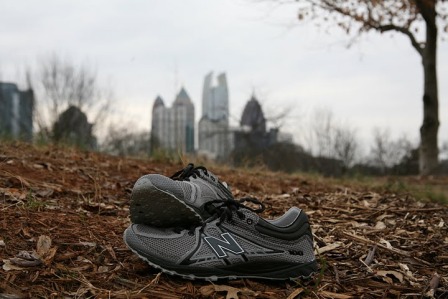 I first became injured on May 19th of last year with Jumper's Knee.  Over the past year I have been nursing this injury, never fully recovering.  I have undergone countless physical therapy sessions, MRIs, multiple X-rays, a plethora of doctors' touching my knees, different types of knee braces, and everything else you can think of to subside this injury to no avail.  What was left for me to try?  Minimalist Running shoes.
I received a pair of New Balances' MT100s Trail Running Shoes and thought this must be a sign to take the first step…running.  The New Balance MT 100s (WT 100s for women) are New Balances' new version of the New Balance 790s.  Since I had never tried minimalist running before I decided to try the New Balance 100s as my minimalist shoe because they offer more support than something like Vibram Five Fingers and are tough enough for the trail, which is where I run mostly.  I started with a little street running in these trail running shoes, only to get to the trail.  My philosophy is you can't drive to the trailhead if you are within running distance.
When I first started I ran down a hill in front of my house and could really feel the pounding on my feet.  This probably had a lot to do with the fact that I had never run in minimalist shoes, and these were made for trails, not asphalt; and not to mention I was running down a steep hill.  However, if you are looking for cushioning and comfort then these are not the shoes for you.  If you want a fast ride and to feel the trail but still have some protection, the MT100s could be your new trail running shoes!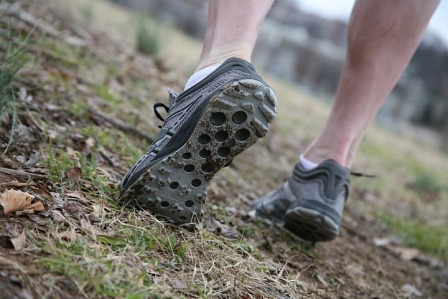 The heel of the shoe is made up of cut outs for rear traction.  This really helped when I was running over some sandy and rocky terrain as I was able to push off better.  The midsole tread looks like someone took an ice cream scooper and scooped out pieces of the sole.  My guess is that this is to reduce the weight of the shoe, as well as increase flexibility and breathability.  You won't be getting any dirt, mud, or rocks caught in these cylinder shaped holes.  The front tread is made up of some smaller ice cream scoops but mostly squares around triangles which lend for good traction while still giving you ample feeling of the trail.
The Rockstop embedded into the forefoot provides decent protection from sharp rocks and roots.  The puncture-resistant toe material in the toe wrap also helps provide some lightweight protection from trail debris, but I would be careful out there, it isn't built like your normal tr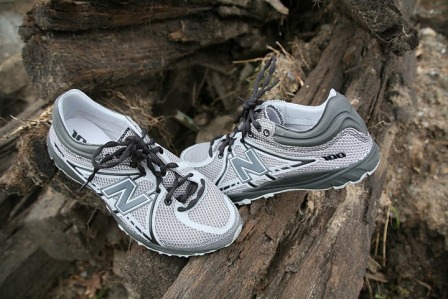 ail running shoes.
The midsole resists compression sets which allows it to bend, feeling more like running barefoot.  However, there is some cushioning in this sole.  I didn't have any aches or pains in my feet after taking these bad boys on a 6 mile trail run.  There is a little arch support from the rubber that wraps around the sole which helps if you are not used to running in minimalist trail running shoes.
The upper is a synthetic mesh which is really lightweight.  The mesh works great for water drain.  I ran through a couple of creeks and felt like the shoes were completely dry after only 4 or 5 steps!  The mesh also gives a tight fit to your feet.  Helping is the Sure Lace technology that New Balance is using on a lot of their shoes now.  It definitely keeps your shoe laces from loosening or coming undone on the trail.  The tongue is really small too which adds to the lightweight and snug fit that the New Balance MT100 trail running shoes give you.
Overall, great trail running shoe if you are looking for a minimalist trail running shoe or maybe even a trail running shoe with a lot of performance on a trail race.  Now if they would just release with some more rad colors so I don't have to buy 3 pairs in the same color.