Thursday, February 18th, 2010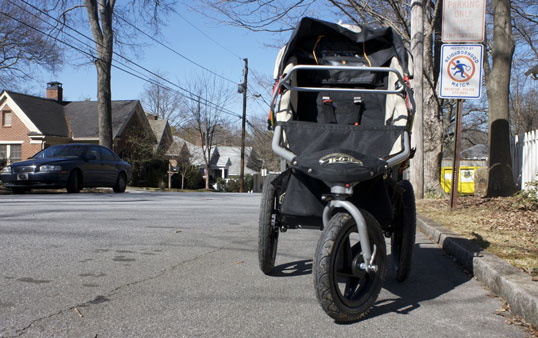 I've been jogging with the B.O.B. Revolution stroller over the past several months and it's high time I shared my review. B.O.B. says the Revolution is for "Running errands. Walking in the park. The perfect BOB stroller for family life in the 'burbs." but I've been doing much more than that – and in the city no less!
Although B.O.B. offers other strollers made specifically for running, our urban family doesn't really have the coin (or the space) for a single purpose baby vehicle. The great thing about the Revolution stroller is it features a swiveling front wheel that can be locked in place for jogging. In swivel mode the stroller is perfect for walking on cracked, narrow sidewalks and is highly maneuverable at tricky intersections. But this review isn't about walking – let's talk baby jogging.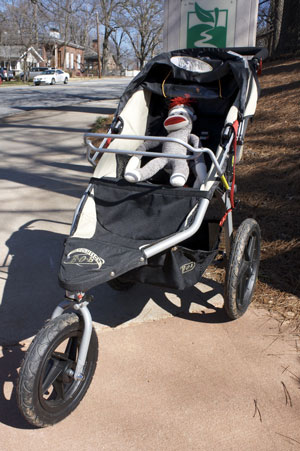 Product features
Running with a baby jogger isn't as easy as it looks but the folks at B.O.B. have put a lot of thought into making the experience as enjoyable as possible (both for the runner and the baby-on-board). The Revolution features 16″ rear wheels that can roll over just about anything without complaining and 3-inches of plush suspension travel that rivals high-end cross-country mountain bikes. Speaking of bikes, the Revolution is built using many standard bike parts like a quick-release axle up front and schraeder tire valves which makes it easy to find repair parts and accessories.
The Revolution frame is constructed from lightweight aluminum and comes with a 5-year warranty (at which point your child should be running on his own

). The frame folds down easily for transport or storage while the canvas seat and canopy can be removed for periodic cleaning. I've found the storage capacity more than adequate for everything from doggie poop bags to baby toys to groceries. The Revolution comes mostly assembled and after following the included instructions we had our stroller up and running in no time.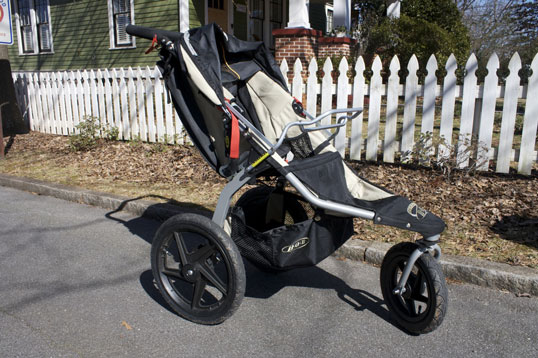 Safety features are important – we are, after all, transporting children – and the Revolution is chock full. The stroller features a foot-actuated parking brake, a wrist safety strap, and even a 5-point safety harness any NASCAR driver would feel safe wearing. There's also a sun canopy to keep UV rays at bay with a clear window to let you see what your child is up to during the run.
Performance on the run
Admittedly running with the Revolution was a little awkward at first, especially for this first-time dad. It's important to lock the front wheel in place to avoid tipping the stroller at high speed but the tradeoff is decreased maneuverability when turning. I've gotten pretty good at anticipating bumps and turns so I can "pop a wheelie" when necessary and the upside is the great arm workout I get along with my run.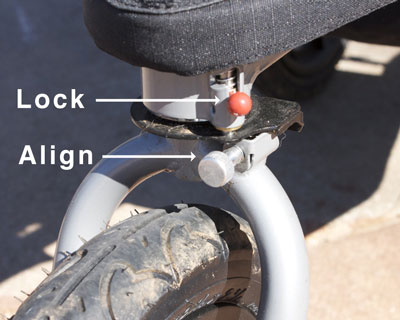 With the front wheel locked, the Revolution features a mechanism for improving the stroller's alignment (B.O.B. calls this "tracking adjustment"). On my first few runs I noticed the stroller pulled to the right pretty hard and had to adjust the tracking to get things straightened out. Ultimately I found that wide neighborhood streets are the best places to jog since keeping a narrow line can sometimes be difficult.
The padded handlebar does a great jog soaking up sweat and feels comfortable even after miles of holding on tight. The lightweight stroller is quite manageable going down hills and isn't too much of a burden going up.
Now if you're assuming running with a baby jogger (any model or brand) is just like running solo, you're in for a bit of a surprise. Here are several things you'll need to adjust when running with a stroller: arm motion (huge impact), downhill leg braking, uphill posture, turning speed, and line selection (to name just a few). I've also decided that trail running isn't an option with the stroller and I doubt there are many who would try it.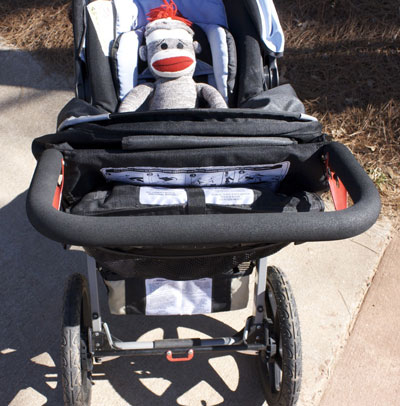 Revolution + Infant Car Seat (seat & adapter sold separately)
Accessories
There are several accessories you can get for your Revolution and I had the chance to try out the infant car seat adapter. As you might expect, this system allows you to attach your infant car seat to the stroller which is great for hauling babies who can't sit up on their own yet. B.O.B. recommends waiting until your child is 8 weeks before walking and 8 months (!) until jogging or going off-road but I jumped the gun a bit on that one (does that make me a bad parent?).
The adapter is solidly constructed and was very easy to install. I have no complaints so far and my daughter, Kendall, seems to love it! In fact, she almost always falls asleep during any run that lasts more than 20 minutes which seems to be a pretty solid endorsement.
The verdict
The B.O.B. Revolution is a very capable jogging stroller and is a great choice for active parents looking for a multi-purpose system. With solid construction, smart safety features, and a focus on comfort, the Revolution is my go-to stroller whenever I leave the house. Parents, you just ran out of excuses for not running more!