Tuesday, October 27th, 2009

Get ready for the XTERRA Georgia Trail Run Series Battle At Big Creek on November 8th at the Big Creek Trails in Roswell, GA.  You can check out more information about the Big Creek trails in our trail runs database.  They are pretty fun trails not too far from downtown Atlanta.  Everyone in the Atlanta area should check them out sometime.  What a better time to check them out than during a fun trail race?!  This trail race is a great single and double track off-road running experience.  The race will start on the Greenway Concrete Trail for spacing but will soon lead into the woods.  The terrain is made up of a little bit of everything, rolling hills, climbs, roots, and rocks along with some technical sections.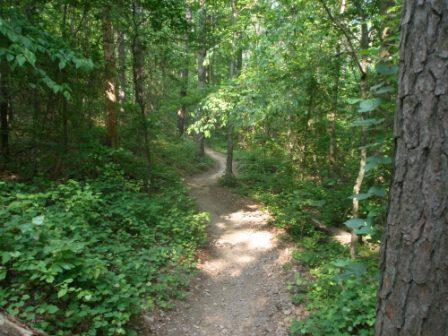 There is a 4.5 and a 9 mile option for this race.  The course is made up of a 4.5 mile loop, the 9 mile race runs the loop twice.  Check-in is from 7-8 with a race start time of 8:30 am sharp.  Medals and awards will be handed out to the top 3 overall male and female runners.  Medals will be awarded to the top 3 finishers in each age category.
Hurry and sign up, this race is limited to 350 people.  Last I heard, they only had about 70 spots left!  Like all of Dirty Spokes Productions XTERRA Trail Run Races, you'll get a sweet Dri-fit T-shirts with your race entry.  However, race day registrations are not guaranteed a shirt.  Click here to register now!  These is a great trail run, in an easy to get to location, put on by a great trail race company director.  Be there!