Friday, November 21st, 2008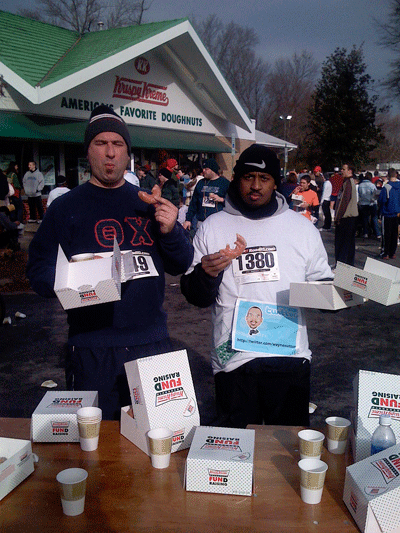 The annual Krispy Kreme Challenge hosted by the students of NC State University in Raleigh combines two of my personal favorite pastimes: running and eating. The event consists of runners jogging 2 miles to the local Krispy Kreme donut shop, downing a dozen doughnuts (that's right – 12), and running 2 miles back to the start. The proceeds from the race go to a good cause – the NC Children's Hospital – and although it's all done in good fun, this is a serious race as well with some runners completing the challenge in under 30 minutes.
The event has grown each year since it was started in 2004 and last year's event drew more than 3,000 gluttonous runners from around the state raising more than $10,000 for charity. The 2009 race, held February 7, could see as many as 5,000 runners!
In case you're wondering, a dozen Krispy Kreme doughnuts contain 2,400 calories of which 1,200 calories come from fat! If the average runner burns 100 calories per mile that's an extra 2,000 calories you'll need to burn off AFTER the race

As long as it's for a good cause I'm all in!